peach and raspberry meringue tart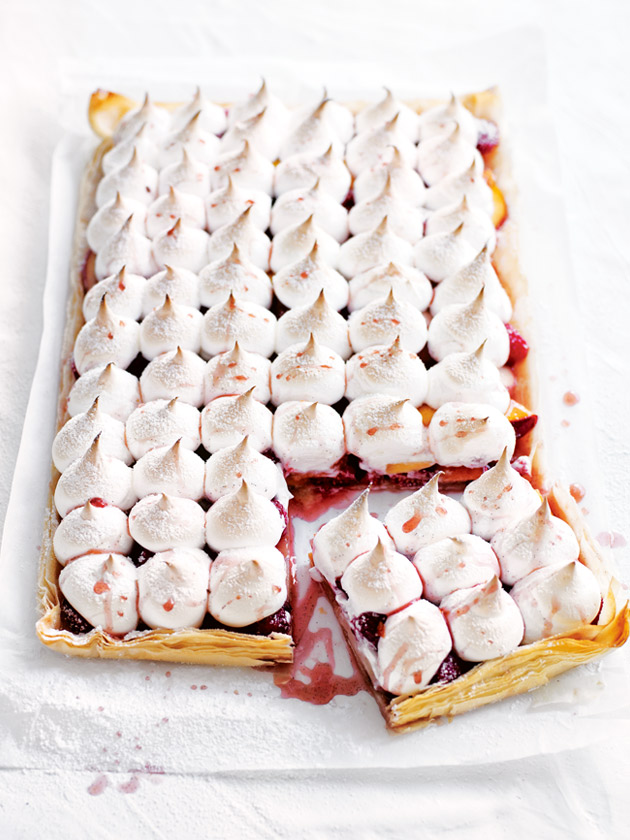 12 sheets frozen filo (phyllo) pastry, thawed

100g unsalted butter, melted

½ cup (110g) caster (superfine) sugar, plus 2 tablespoons extra

¼ cup (90g) honey

1 vanilla bean, split and seeds scraped

800g peaches, halved and cut into 1cm-thick slices

250g raspberries

meringue topping
225ml eggwhite (about 6 eggs)+

1½ cups (330g) caster (superfine) sugar

1½ teaspoons white vinegar

Preheat oven to 140°C (275°F). Line a 24cm x 36cm Swiss roll tin with non-stick baking paper. Brush 1 sheet of pastry with butter, sprinkle with 2 teaspoons of the sugar and top with another sheet of pastry. Repeat with the remaining butter, sugar and pastry, finishing with a layer of sugar. Place the pastry stack in the tin. Bake for 20–25 minutes or until golden++. Set aside.

Place a large non-stick frying pan over high heat. Add the extra sugar, the honey, vanilla seeds and peaches and cook, stirring frequently, for 1–2 minutes or until the peaches are just soft. Add the raspberries, toss to combine and set aside.

To make the meringue topping, place the eggwhite in the bowl of an electric mixer and whisk on high speed until stiff peaks form. Add the sugar, 1 tablespoon at a time, whisking for 30 seconds before adding more. Whisk for a further 6 minutes or until stiff and glossy. Scrape down the sides of the bowl, add the vinegar and whisk for 2 minutes or until glossy.

Preheat oven grill (broiler) to high. Spoon the meringue into a piping bag fitted with a 2cm round nozzle. Spoon the fruit onto the pastry, reserving the juices. Pipe the meringue onto the fruit and place the tart under the grill for 2–3 minutes or until just golden. Carefully remove the tart from the tin. Drizzle with the reserved juices and slice to serve. Serves 8–10

+ Making meringue is a science – for success, be sure to measure the eggwhites carefully (as instructed in the recipe), remembering that egg sizes do vary. Be sure to use fresh, room-temperature eggs – this will help the eggwhites to become more voluminous when beaten.
++ The pastry will have puffed up in the oven but will deflate once it begins to cool.
donna hay team
Yes, rhubarb would be perfect substitute. If you like you could add a frozen berry too! The DH team
Sacha Burley
Any suggestions for alternative fruit to use in winter when stone fruit aren't in season??