mixed stone fruit cobbler
with raspberry and buttermilk biscuit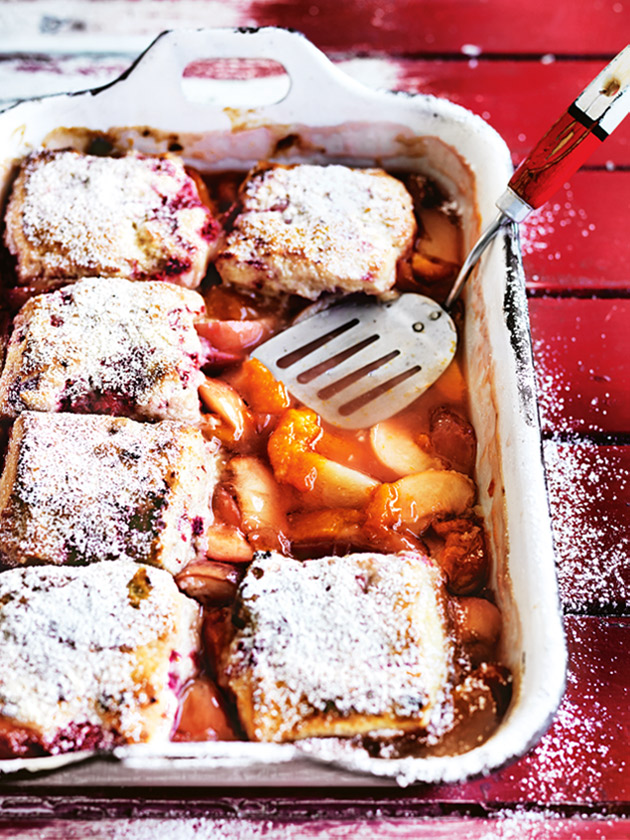 4 medium white peaches (500g), sliced

5 medium white nectarines (600g), sliced

6 apricots (400g), sliced

¾ cup (165g) caster (superfine) sugar

2 tablespoons lemon juice

2 teaspoons vanilla extract

2 tablespoons cornflour (cornstarch)

icing (confectioner's) sugar, for dusting

raspberry and buttermilk biscuits
3 cups (450g) plain (all-purpose) flour, sifted, plus extra for dusting

3 teaspoons baking powder, sifted

¾ cup (165g) caster (superfine) sugar

185g cold unsalted butter, chopped

¾ cup (180ml) buttermilk

125g fresh raspberries, lightly crushed

Preheat oven to 180°C (350°F). Place the peach, nectarine, apricot, sugar, lemon juice, vanilla and cornflour in a large bowl and mix to combine. Transfer the fruit mixture to a large (3-litre-capacity) ovenproof dish. Place the dish on a large baking tray, cover with aluminium foil and bake for 30–35 minutes or until the fruit has softened.
While the fruit mixture is baking, make the raspberry and buttermilk biscuits. Place the flour, baking powder and caster sugar in a large bowl and mix to combine. Use your fingertips to rub the butter into the mixture until it resembles coarse breadcrumbs. Add the buttermilk and use a butter knife to mix until just combined, taking care not to overmix the dough. Turn out onto a lightly floured surface and gently bring the dough together.
Place the raspberries on top of the dough and lightly dust with flour. Using your hands to gently work the raspberries into the dough, push out the dough to 2cm thick. Use a knife or square cutter to cut 8 x 7cm squares.
Place the biscuits on top of the fruit and bake, uncovered, for a further 30–35 minutes or until the biscuits are golden and cooked through. Dust with icing sugar to serve. Serves 8.

There are no comments for this entry yet.