white chocolate and salted caramel mousse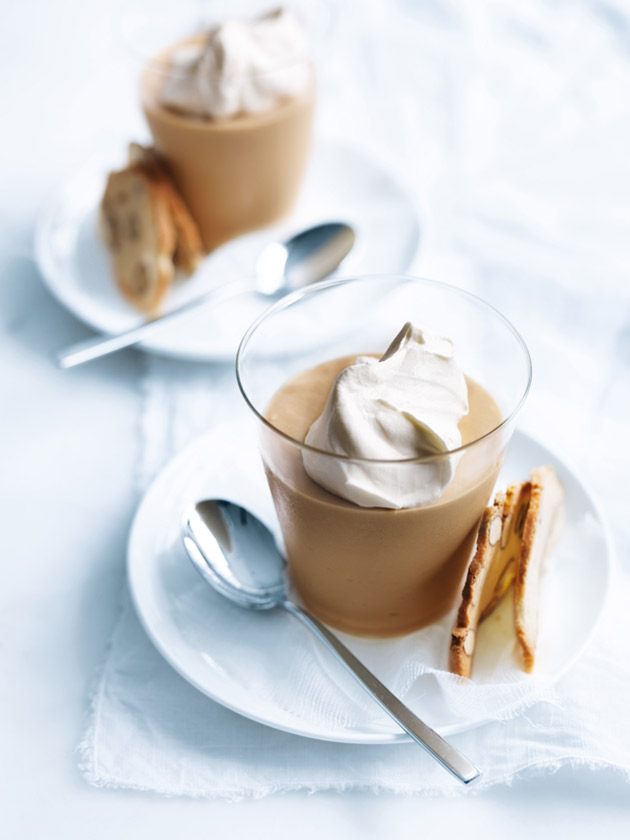 100g white chocolate, chopped

2 eggs, separated

1 tablespoon brown sugar

1 cup (250ml) single (pouring) cream

1 cup (250ml) store-bought caramel filling, softened

½ teaspoon sea salt flakes

whipped cream, to serve

store–bought biscotti, to serve

Place the chocolate in a small heatproof bowl over a saucepan of simmering water, and stir until melted and smooth. Set aside to cool slightly. Place the eggwhites in a bowl and whisk until soft peaks form. Add the sugar and whisk until stiff peaks form and the mixture is thick and glossy.
In a separate bowl whisk the cream until soft peaks form. In a large bowl, whisk together the melted chocolate, egg yolks, caramel and salt until smooth. In two batches, gently, fold the eggwhite mixture through the chocolate mixture. Gently fold the cream through the mousse until just combined. Spoon into 4 x 1¼ cup-capacity (310ml) glasses and refrigerate for 3–4 hours or until set. Serve topped with the whipped cream and the biscotti. Serves 4.

Tip: you can prepare the mousse a day in advance. Just cover and keep refrigerated until ready to serve. You can keep any extra in the fridge for up to two days.
Marjorie Wilson
This was so yum! I made it for a large farewell party and put them in little cups, i also made a almond praline and sprinkled it on top and they were demolished!