raspberry and almond upside-down cake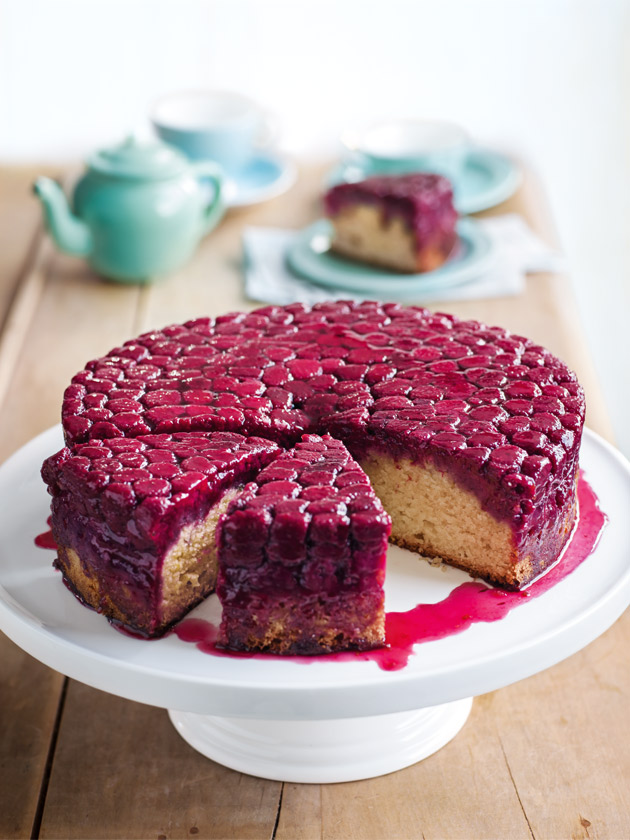 1kg frozen raspberries, thawed on absorbent paper

1¾ cups (385g) caster (superfine) sugar

190g unsalted butter, softened

2 teaspoons finely grated lemon zest

1 vanilla bean, split and seeds scraped

3 eggs

2 cups (300g) plain (all-purpose) flour, sifted

1½ teaspoons baking powder, sifted

½ teaspoons bicarbonate of (baking) soda, sifted

½ cup (60g) almond meal (ground almonds)

1 cup (250ml) buttermilk

Preheat oven to 180°C (350°F). Layer the raspberries over the base of a lightly greased 24cm-round tin lined with non-stick baking paper to form two layers. Sprinkle with ½ cup (110g) sugar and set aside. Place the butter, remaining sugar, lemon zest and vanilla seeds in an electric mixer and beat for 8–10 minutes or until pale and creamy.
Scrape down the sides of the bowl and add the eggs, one at a time, beating well after each addition. Add the flour, baking powder, bicarbonate of soda, almond meal and buttermilk and beat on low speed until just combined. Spoon the mixture over the raspberries and smooth the top with a palette knife. Bake for 45 minutes.
Cover loosely with aluminium foil and bake for a further 40–45 minutes or until cooked when tested with a skewer. Allow to cool in the tin at room temperature for 2 hours or until just warm.
Invert the cake onto a serving plate and carefully remove the tin to serve. Serves 8–10.

donna hay team
Hi Miss Teodora, yes you could use fresh raspberry, but you will find the top of the cake will not be as moist. Happy baking!
Miss Teodora Nuta
Can I use fresh raspberries for this?
donna hay team
Hi Celine, This cake is best made the day you want to serve it. You'll find if you make this cake in advance, the cake will become too moist to serve. Happy baking!
Celine Foote
Can this cake be made 2 days in advance and how would you store it please?
Sally Wells
This got rave reviews! I used thawed strawberries I'd frozen myself and replaced the buttermilk with plain yoghurt. Delightful!
donna hay team
Hi Judy, putting them on the side or point down should be fine. The DH Team.
Judy Sachs
Hi, The first time I made this cake I placed the raspberries standing, as in each berry was standing on it's base on the bottom of the cake pan. I'm about to make it again and thought I might have put them in incorrectly the first time and they were to go point down. Please advise.
donna hay team
Hi Briana, we recommend that the best way to store this cake would be in the fridge. Enjoy!
Briana Giraldi
What would be the best way to store this cake? In the fridge or at room temperature?