raspberry and white chocolate trifle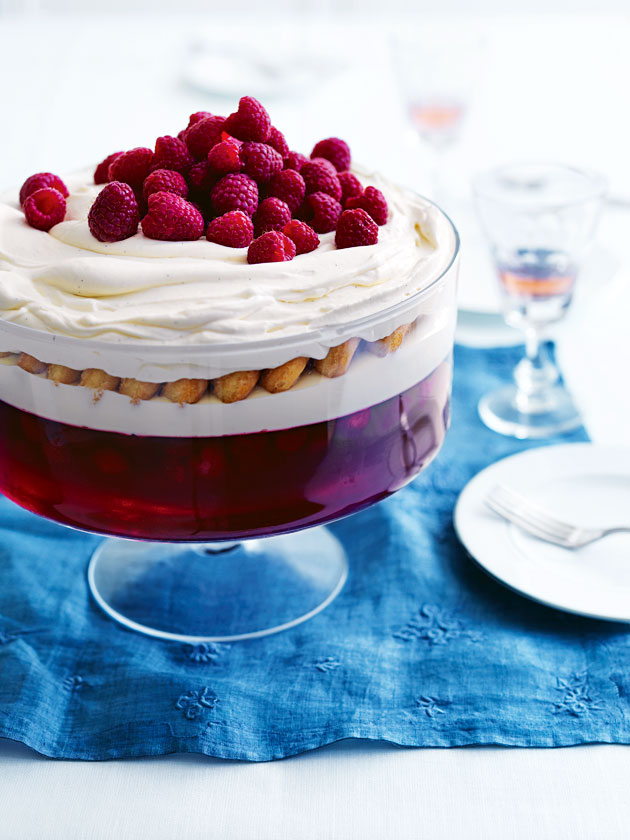 ½ cup (125ml) orange liqueur

20 small store-bought sponge finger biscuits (see cook's tips below)

250g raspberries, to serve

raspberry jelly
1.5 litres cranberry juice

2 tablespoons gelatine powder

1 cup (220g) caster (superfine) sugar

3 3⁄4 cups (500g) frozen raspberries
white chocolate ganache
180g white chocolate, finely chopped

1 cup (250ml) single (pouring) cream

mascarpone cream
½ cup (125g) mascarpone

½ cup (80g) icing (confectioner's) sugar, sifted

1 teaspoon vanilla bean paste or vanilla extract

1½ cups (375ml) single (pouring) cream

To make the raspberry jelly, place 1 cup (250ml) of the cranberry juice in a small bowl. Slowly sprinkle with the gelatine and set aside for 5 minutes or until the gelatine is absorbed. Place the remaining juice and the sugar in a large saucepan over medium heat and stir until the sugar is dissolved. Bring to the boil and cook for 1 minute. Remove from the heat, add the gelatine mixture and whisk to combine. Allow to stand for 20 minutes or until cool. Pour into a 4-litre-capacity glass dish and top with the frozen raspberries. Refrigerate for 4–5 hours or overnight until set (see cook's tips below).
To make the white chocolate ganache, place the chocolate in a small saucepan over low heat and stir until melted and smooth. Remove from the heat and add ¼ cup (60ml) of the cream in a thin, steady stream, stirring constantly until well combined. Allow to cool slightly and refrigerate until just cold. Place the remaining ¾ cup (180ml) of cream in the bowl of an electric mixer and whisk on high speed until stiff peaks form. Add the cooled chocolate mixture and gently fold to combine.

To make the mascarpone cream, place the mascarpone, sugar, vanilla and cream in the bowl of an electric mixer and whisk until soft peaks form.

To assemble the trifle, spoon the ganache over the jelly and smooth the top, using a palette knife. Place the liqueur in a small shallow bowl. Dip the biscuits in the liqueur and layer them over the ganache. Spoon the mascarpone cream over the biscuits and sprinkle with the fresh raspberries to serve. Serves 6–8

COOK'S TIPS
+ Depending on the size of the sponge finger biscuits and your glass trifle bowl, you may need to trim the biscuits to fit.
+ You can make the raspberry jelly 1–2 days in advance, before proceeding with the ganache, sponge and mascarpone cream layers.
Alisha Fitzgerald
Excellent this is the second year I've made this. Everyone loves it. I found that I had to double the gelatin powder otherwise the jelly would never set.
Judy Cunningham
Always a winner. I double the ganache and the fresh raspberries.
Timiney Colefax
I made this trifle last year and was a huge hit with requests for this year. The best thing is that those that dont like trifle loved this one. Thank you Donna and team for its creation.
donna hay team
Hi Andrea, we haven't tested the setting strength of unflavoured jelly crystals, therefore you would need to see the packet instructions on how much liquid is needed to set the jelly. The DH team x
Roseanne Debnam
This is my son in laws favourite. I make this for his Birthday instead of a Birthday cake.
Allyson Lees
This has been a family Christmas tradition for 5+ years now. It's delicious. I make an adults version and a kids version (I substitute the liquor for orange juice). Goes down a real treat with everyone.
Andrea Juhasz
can unflavored jelly crystals be used instead of gelatine powder?
Karen Shepherd
This dessert is a huge hit with my family.