raw choc-raspberry coconut biscuits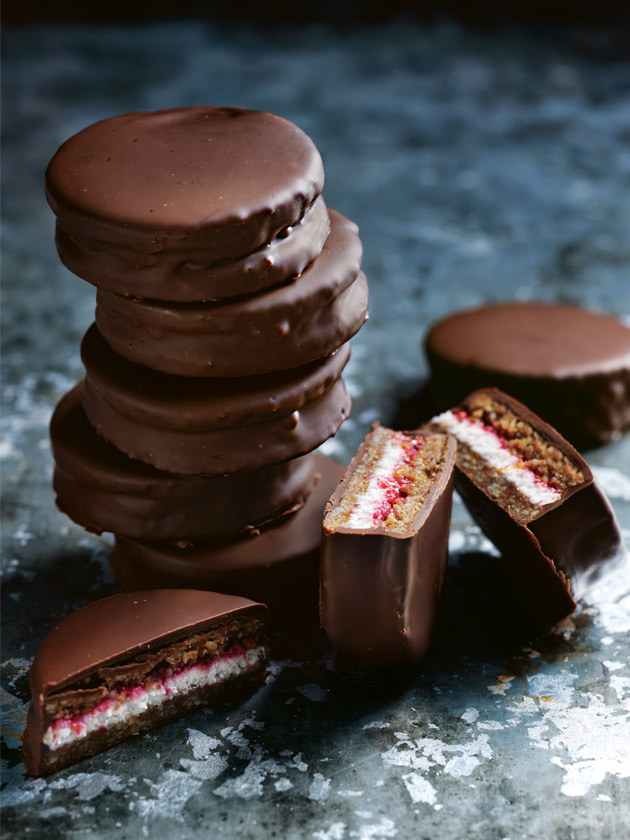 125g fresh raspberries

1 tablespoon white chia seeds

200g 70% dark chocolate, melted

2 teaspoons coconut oil, melted
oat biscuit
¾ cup (65g) rolled oats

¾ cup (120g) almonds

2 tablespoons almond spread

½ cup (75g) raisins

1 tablespoon maple syrup

coconut filling
¾ cup (60g) desiccated coconut

½ cup (125ml) coconut cream

1 tablespoon coconut oil

To make the oat biscuit, place the oats, almonds, almond spread, raisins and maple syrup in a food processor and process for 2–3 minutes or until finely chopped and well combined. Bring the dough together and roll out between 2 sheets of non-stick baking paper to 4mm thick. Refrigerate for 10 minutes or until firm. Using a 5.5cm round cutter, cut out 20 rounds, re-rolling if necessary. Refrigerate until needed.

Place the raspberries in a small bowl and crush with a fork. Add the chia seeds, mix to combine, and set aside for 30 minutes or until thickened.

To make the coconut filling, place the coconut, coconut cream and coconut oil in a blender and blend until well combined and fluffy.

Top 1 oat biscuit with 1 teaspoon of the raspberry jam and 2 teaspoons of the coconut filling. Sandwich with another oat biscuit. Repeat with the remaining biscuits, jam and filling. Place on a tray lined with non-stick baking paper and refrigerate for 20 minutes or until firm.

Place the chocolate and coconut oil in a small bowl and mix to combine. Dip one of the biscuits in the chocolate, shaking off any excess, and return to the tray. Repeat with the remaining biscuits and chocolate. Place in the refrigerator for 10 minutes or until just set. Serve. Makes 10.

Tips + Tricks
These biscuits will keep stored in an airtight container for up to three days.
donna hay team
Hi Emily, be sure to process the cookie dough until smooth and make sure to set it in the fridge for the required time. If they are a little soft, you can keep them in the freezer. The DH team x
Emily Clarke
I couldnt get the biscuit to set - it was just a delicious crumb! Help!
Tags:
almonds
,
biscuits
,
chia seeds
,
chocolate
,
coconut
,
maple syrup
,
oats
,
raspberry
,
raw
,
raw desserts
,