red velvet cheesecakes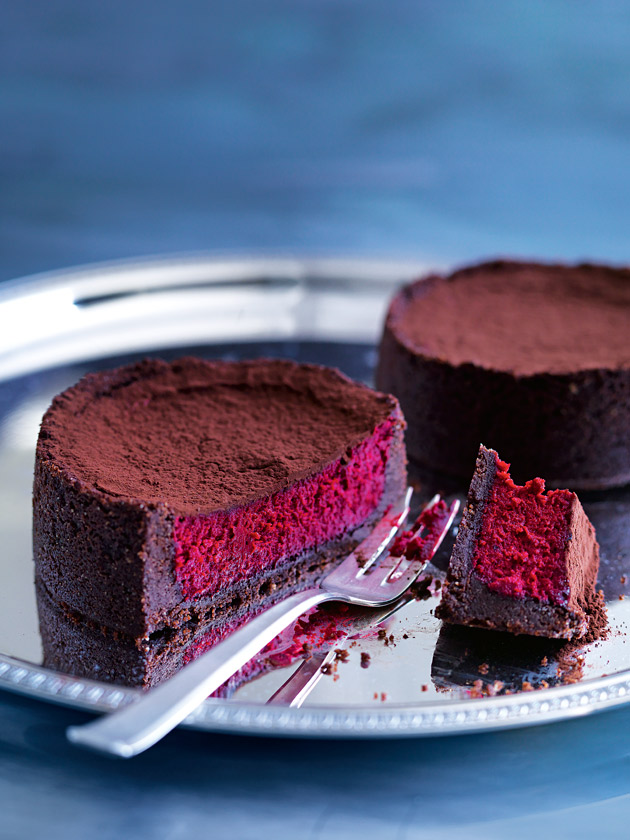 350g plain chocolate biscuits

⅓ cup (40g) almond meal (ground almonds)

100g unsalted butter, melted

Dutch cocoa, for dusting

filling
250g cream cheese, chopped

¾ cup (150g) ricotta

½ cup (110g) caster (superfine) sugar

2 eggs

1 teaspoon vanilla extract

100g dark chocolate, melted

1½ tablespoons red food colouring

Place the biscuits and almond meal in the bowl of a food processor and process until coarse crumbs form. Add the butter and process until combined.

Line the base of 4 x 10cm-round lightly greased springform tins with non-stick baking paper.

Using the back of a spoon, press the crumb mixture into the bases and sides of the tins. Refrigerate for 30 minutes–1 hour or until cold.

Preheat oven to 140°C (275°F).

To make the filling, place the cream cheese, ricotta and sugar in the bowl of a food processor and process for 2–3 minutes or until smooth.

Scrape down the sides of the bowl, add the eggs and vanilla and process for a further 1 minute. Add the chocolate and food colouring and process until well combined.

Divide the mixture over the bases and bake for 40–45 minutes or until set.

Allow the cakes to stand at room temperature for 30 minutes before refrigerating for 2–3 hours or until cold.

Dust with the cocoa just before serving. Serves 4–6.

Neelam Rathod
Hi i am from india and i want to make this recipe…wanted to knw what i can use instead of eggs…please suggest
donna hay team
Hi Terri! This is a tricky question, as these were individually baked. The crumb/ pastry up the sides will be trickier to do on a large scale.
Terri Weeks
How deep do you make the cakes? I am wanting to make one big one.
Aleshia Rechner
I've just made this in a 25cm fluted loose base flan tin and cooked for 45 minutes - it was perfect ❤️
donna hay team
Unfortunately we have not tested the cheesecake in one large tin, so you will need to test the cooking time. We would suggest starting in a 22cm spring form tin, cook it at the same temperature as the recipe suggests and start to check after 30 minutes. Good luck! The DH team
Melanie Hayes
I would like to make one big cheesecake, what would be the measurement of a round tin to do this, please?
Veneranda Spadaro
What are the cooking times to make 1 big cake instead of four individual cakes?