rum and raisin cookies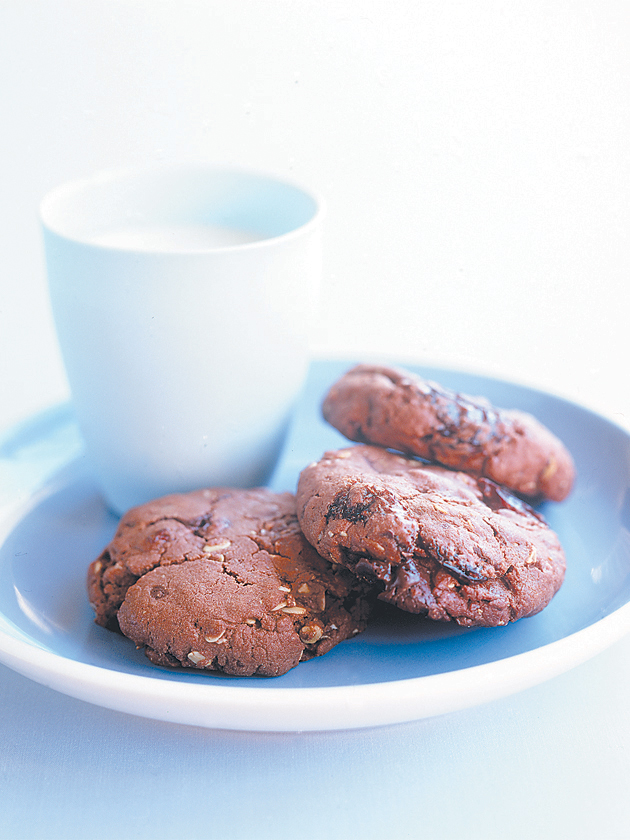 ¼ cup (60ml) dark rum
2 cups (300g) raisins
125g butter, softened and chopped
1 cup (175g) brown sugar
½ teaspoon vanilla extract
¼ cup (25g) cocoa powder
2½ cups (375g) plain (all-purpose) flour
1 teaspoon baking powder
1 egg
¼ cup (60ml) milk
½ cup (90g) rolled oats
½ cup (50g) dark chocolate chunks

Preheat oven to 180ºC (390ºF). Place the rum and raisins in a small saucepan over low heat and simmer until the raisins have absorbed the rum.
Process butter, sugar, vanilla, cocoa, flour, baking powder, egg and milk in a food processor until a soft dough forms. Place in a bowl and stir through the oats, chocolate and raisins. Using your hands, mould 2 tablespoons of cookie mixture into a flat round. Place on a baking tray lined with non-stick baking paper, leaving room to spread. Repeat with remaining mixture. Bake for 15–18 minutes or until the base is dark and crisp. Allow to cool on trays. Makes 15.

* To check if the cookies are done, look at the bottom not the top. If you wait until the top looks right you risk overcooking them. To check, lift a cookie with a spatula so you can see underneath. The bottom should be deep golden. Cool on trays as the cookies will continue to cook after you've removed them from the oven.
There are no comments for this entry yet.