rum and raisin truffles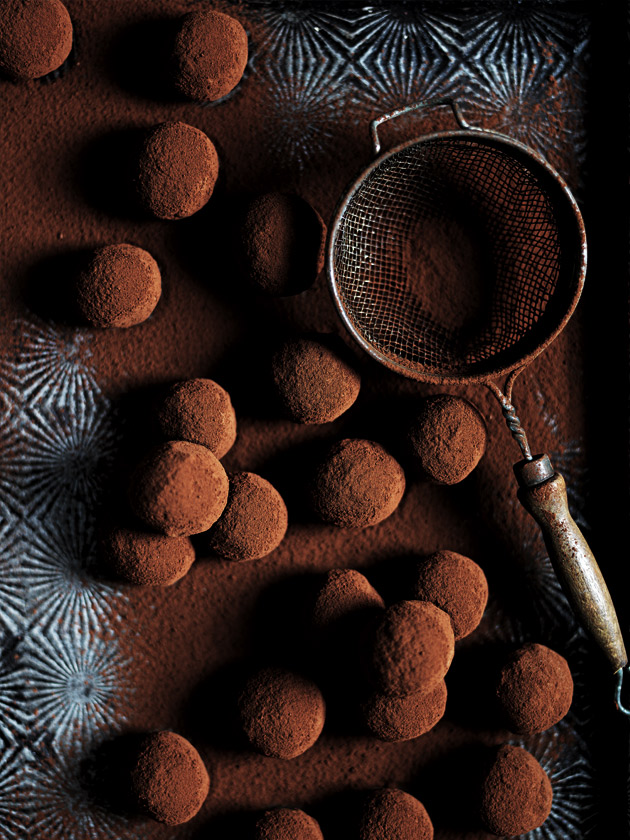 ½ cup (75g) raisins, chopped

⅓ cup (80ml) dark rum

¾ cup (180ml) single (pouring) cream

600g dark chocolate, finely chopped

1 cup (100g) cocoa powder

Place the raisins and rum in a small bowl and set aside to soak. Place the cream in a small saucepan over high heat and bring to the boil. Place the chocolate in a medium heatproof bowl and top with the hot cream. Place the bowl over a saucepan of simmering water (the bowl shouldn't touch the water) and, using a metal spoon, stir until melted and smooth. Add the raisin mixture and stir to combine. Allow to stand at room temperature for 10 minutes, before refrigerating for 2–3 hours or until just firm.

Roll 1-teaspoon portions of the truffle mixture into balls+ and place on a large tray. Dust with cocoa to serve. Makes 50
+ If the truffle mixture becomes too firm to roll, allow it to stand at room temperature for 15 minutes or until softened.
Tip: You can keep these truffles refrigerated for up to 2 weeks, meaning they're easy to prepare in advance.
There are no comments for this entry yet.