salted honey and apple tarte tatin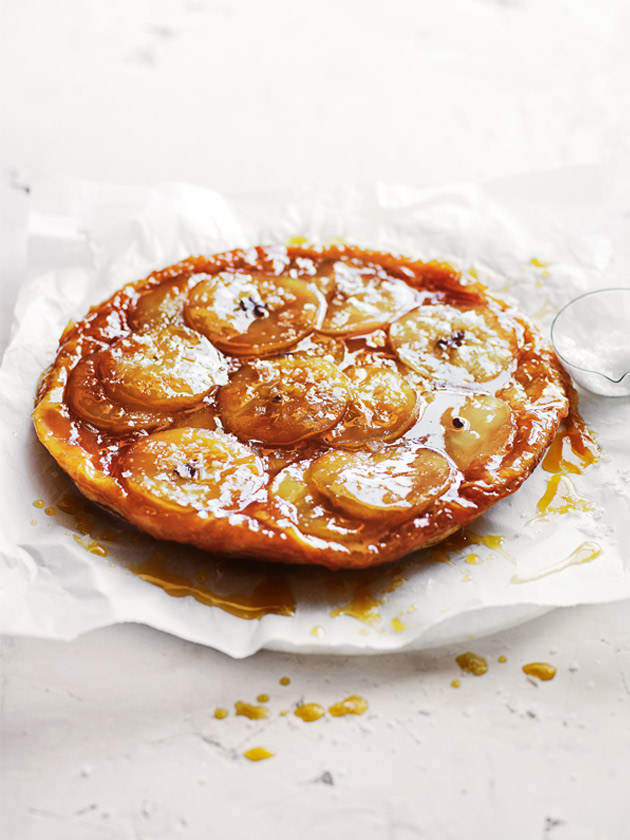 100g unsalted butter, chopped

½ cup (180g) honey, plus extra to serve

800g Granny Smith (green) apples (about 6 apples), peeled and cut into 1cm-thick slices

2 sheets frozen butter puff pastry, thawed

½ teaspoon sea salt flakes

Preheat oven to 200°C (400°F). Place the butter and honey in a 21cm heavy-based ovenproof frying pan (skillet) over high heat. Bring to the boil and cook for 1–2 minutes or until thickened slightly. Arrange the apple slices on top and set aside.

Press the pastry sheets together to make 1 thick sheet+. Using a plate as a guide, cut a 24cm round from the pastry. Place the pastry over the apples and press down gently to secure. Using a sharp knife, make 3 small incisions in the centre of the pastry. Place the pan on an oven tray and bake for 35–40 minutes or until the pastry is dark golden.

Allow the tart to cool in the pan for 2 minutes before carefully turning out onto a serving plate++. Sprinkle with the salt to serve. Serves 4

+ By layering sheets of store-bought puff pastry twice, you'll instantly get a more buttery and flaky base that's puffed to perfection.
++ To turn out the tarte tatin, loosen the edges of the pastry with a palette knife, then place a serving plate over the skillet and, using a tea towel, carefully invert.
There are no comments for this entry yet.