smoked almond and cherry panforte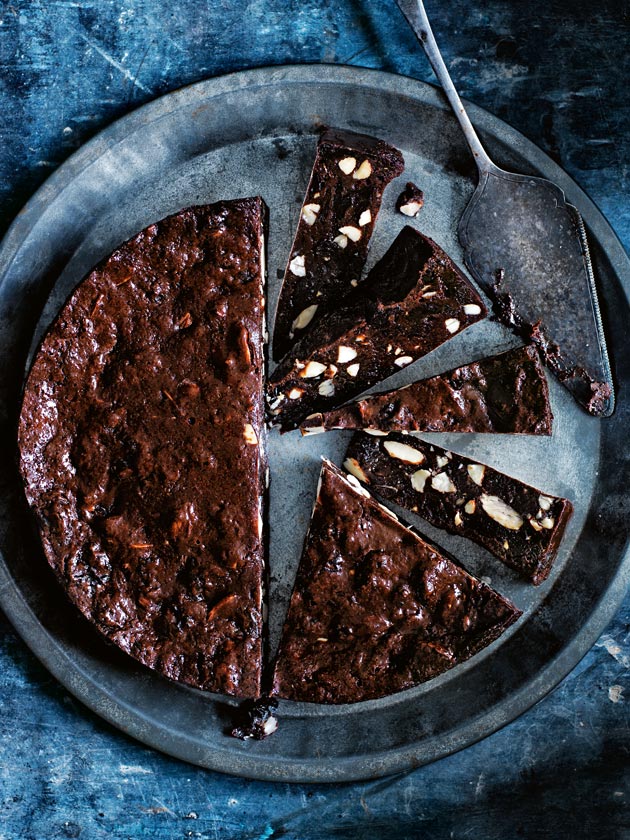 1 sheet confectionery rice paper+, for lining

2½ cups (375g) dried cherries++

⅓ cup (80ml) bourbon

¾ cup (110g) plain (all-purpose) flour, sifted

⅓ cup (35g) cocoa powder, sifted

2 teaspoons mixed spice

1½ cups (240g) smoked almonds, roughly chopped

120g dark chocolate, melted

¾ cup (270g) honey

1 cup (220g) white (granulated) sugar

1 vanilla bean, split and seeds scraped

Preheat oven to 160°C (325°F). Line a 20cm round springform tin with non-stick baking paper. Trim the rice paper into a round to fit the base of the tin and place it on top of the baking paper.

Place the cherries and bourbon in a medium saucepan over high heat and cook, stirring frequently, for 4–5 minutes or until the fruit is plump. Set aside to cool slightly.

Place the flour, cocoa, mixed spice, almonds, chocolate and the cherry mixture in a large bowl and mix until just combined.

Place the honey, sugar and vanilla seeds in a small saucepan over medium heat and stir until combined. Bring to the boil and cook for 2 minutes or until the temperature reaches 118°C (244°F) on a sugar (candy) thermometer. Add the honey mixture to the chocolate mixture and stir to combine.

Spoon the mixture into the tin, pressing to even the top. Bake for 40–45 minutes or until the panforte is set on the sides and slightly soft in the centre. Allow to cool in the tin for 5 hours or overnight.

Run a small knife around the edge before removing the panforte from the tin. Slice into wedges to serve. Serves 12

+ You can find confectionery rice paper in the Asian or baking sections of the supermarket or at Asian grocers.
++ You can use sweetened dried cranberries in place of cherries if you prefer.
Tip: Keep the panforte wrapped in plastic wrap in a cool, dark place for up to 2 weeks or refrigerated for up to 1 month. Bring to room temperature before serving.
There are no comments for this entry yet.