spiced brown sugar mince pie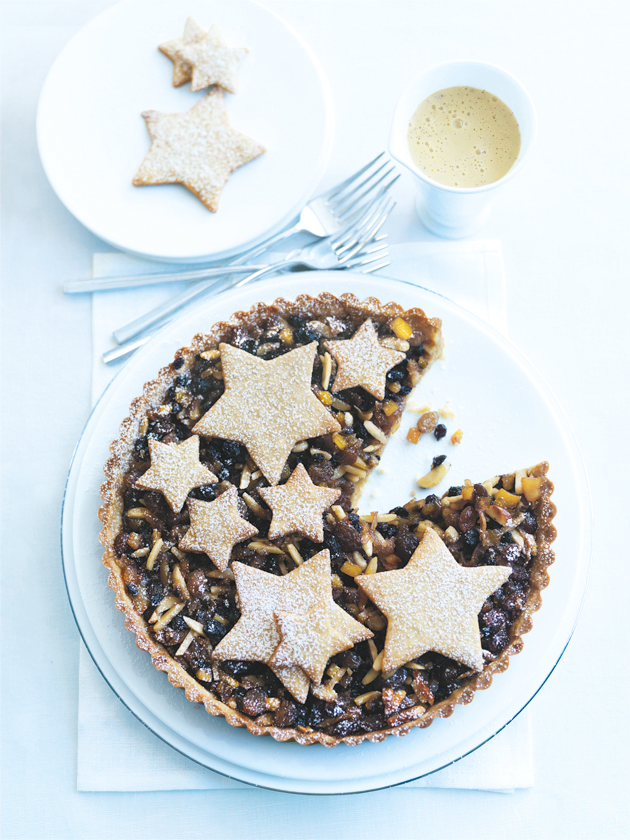 1 Granny Smith (green) apple, peeled and grated
½ cup (80g) currants
¾ cup (120g) sultanas
½ cup (70g) slivered almonds
½ cup (85g) mixed peel
¼ cup (60ml) brandy
½ cup (90g) brown sugar
60g butter, chopped
1 egg yolk, lightly beaten
white sugar, for sprinkling
icing (confectioner's) sugar, for dusting
store-bought brandy custard, to serve
spiced brown sugar pastry
2 ⅔ cups (400g) plain (all-purpose) flour
300g cold butter, chopped
½ cup (90g) brown sugar
1 teaspoon ground ginger
2 eggs
2 teaspoons vanilla extract
To make the pastry, place the flour, butter, sugar and ginger in the bowl of a food processor and process in short bursts until mixture resembles coarse breadcrumbs. Add the eggs and vanilla and process until pastry comes together. Turn out onto a bench and bring the dough together quickly with your hands. Divide into 2 portions and flatten slightly into discs. Wrap in plastic wrap and refrigerate for 1 hour.Preheat oven to 180ºC (350ºF). Place the apple, currants, sultanas, almonds, mixed peel, brandy, sugar and butter in a medium saucepan over low heat and cook for 8–10 minutes, stirring occasionally, or until fruit is tender and liquid is absorbed. Set aside to cool completely.

Roll out 1 portion of pastry between 2 sheets of non-stick baking paper to 3mm thick. Line a lightly greased 22cm round fluted tin with the pastry, trim the excess pastry and prick the base with a fork. Refrigerate for 10 minutes. Line the pastry with baking paper, fill with baking weights or rice or beans and blind bake for 10 minutes. Remove the paper and weights and bake for a further 5 minutes or until golden.Fill tart shell with the fruit mixture. Roll out remaining pastry between 2 sheets of non-stick baking paper to 3mm thick and use a star-shaped cookie cutter to cut out shapes from the pastry. Top the tart with the stars slightly overlapping. Brush with egg yolk, sprinkle with sugar and bake for 25–30 minutes or until light golden. Allow to cool and remove from tin. Dust with icing sugar and serve with custard. Serves 8.

donna hay team
Hi Lee, as we have not tested with gluten free flour the texture might vary. Try buying a gluten free flour that has a blend of different flours in it, this will give the best result. Good luck! The DH team x
Lee McCourt
Would the pastry still work if I replaced the plain flour with gluten free?