spiced date layer cake
with butterscotch icing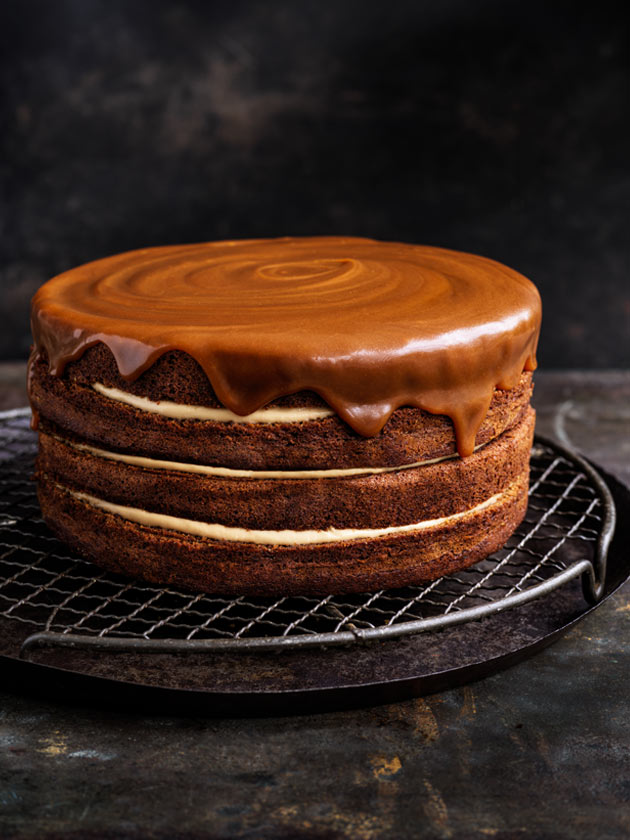 20 soft fresh dates (400g), pitted
1¼ cups (310ml) boiling water

1½ teaspoons bicarbonate of (baking)

soda
200g unsalted butter, chopped
1 cup (240g) firmly packed dark brown sugar
4 eggs

2½ cups (375g) self-raising

(self-rising) flour
1 teaspoon ground cinnamon
1 teaspoon mixed spice

mascarpone filling
500g mascarpone
⅓ cup (80g) firmly packed dark brown sugar, extra

butterscotch icing
1 cup (220g) caster sugar
¼ cup (60ml) water
80g unsalted butter
½ cup (125ml) single (pouring) cream
Preheat oven to 160°C (325°F). Line 2 x 20cm round cake tins with non-stick baking paper. Place the dates, water and bicarbonate of soda in a medium heatproof bowl and allow to soak for 10 minutes. Place the date mixture, butter and sugar in a food processor and process until well combined. Add the eggs, flour, cinnamon and mixed spice and process until just combined.
Divide the mixture between prepared tins. Bake for 40-45 minutes or until cooked when tested with a skewer. Allow to cool in the tins for 10 minutes before turning out onto a wire rack to cool completely.
To make the mascarpone filling, fold the mascarpone and brown sugar together in a medium bowl until just combined. Set aside.
To make the butterscotch icing, place the sugar and water in a small saucepan over medium heat and stir until sugar is dissolved. Cook, without stirring, for 7–8 minutes or until the temperature reaches 160°C (325°F) on a sugar thermometer. Remove from heat, add butter and cream and carefully stir to combine. Set aside until cool.
Trim the tops from the cakes and cut each cake in half horizontally. Place one layer of cake onto a cake stand or plate. Using a small palette knife, spread the cake with ⅓ of the mascarpone filling. Repeat with the layers and filling. Spread the top of the cake with the butterscotch icing to serve. Serves 12-14
Tips + Tricks:
The dark brown sugar adds a lovely richness to this celebratory cake, and adds subtle caramel notes to the creamy mascarpone filling. Top it off with an addictively smooth and luscious butterscotch icing and you've got a serious showstopper.
Photography: William Meppem

donna hay team
Hi Jo, Yes, you can make the cake in advance and then make and assemble the mascarpone filling and butterscotch icing on the day. Happy baking!
jo foster
hi there, can i make ahead?
donna hay team
Hi Rozanne, mixed spice is a popular baking spice mix here in Australia, consisting of allspice, cinnamon, nutmeg, mace, cloves, coriander and ginger. Happy baking! the dh team
JENNY JONES
Cake easy and lovely - light - smells fantastic when cooking.
Marscapone needs whipping as it is too runny otherwise
Rozanne R-P
What is mixed spice? Is there a recipe for the mixed spice on your site? Thank you.