sticky date cake with toffee sauce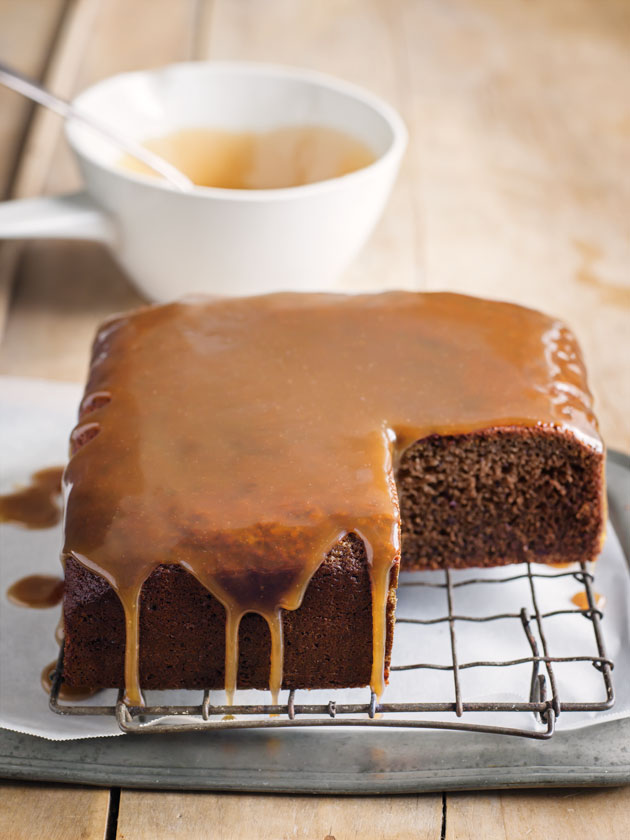 2¼ cups (315g) chopped fresh dates

1½ cups (375ml) boiling water

1½ teaspoons bicarbonate of (baking) soda

150g unsalted butter, chopped

1 cup (175g) brown sugar

3 eggs

1½ cups (225g) self-raising (self-rising) flour, sifted

toffee sauce
150g unsalted butter, chopped

1 cup (250ml) single (pouring) cream

1½ cups (265g) brown sugar

Preheat oven to 160°C (325°F). Place the dates, water and bicarbonate of soda in a bowl and set aside for 5 minutes. Place the date mixture, butter and sugar in a food processor and process until well combined. Add the eggs and flour and process until just combined.
Pour the mixture into a lightly greased 20cm-square tin lined with non-stick baking paper and bake for 60–70 minutes or until cooked when tested with a skewer. Allow to cool in tin for 10 minutes before turning out onto a wire rack.
To make the toffee sauce, place the butter, cream and sugar in a saucepan over medium heat and stir until the sugar is dissolved. Bring to the boil and cook for 8–10 minutes or until thickened slightly. Serve with the sticky date cake warm or at room temperature. Serves 6–8.

Joanna Jones
WOW. Used this recipe as I could not find the one I usually use, this is now my favourite. Turned out perfect, light & fluffy with a crunchy top. Ate it warm with a bit of butter - delicious!!!
Christina Leong
Was easy to follow & turned out perfectly. Will be using the recipe again!
Justin Lambert
First attempt at this one. Cake tin was a little small so now have two. Looks and smells awesome, just making the toffee sauce! Great, easy recipe. I used dark brown sugar for extra kick!
Jay Mitra
Came out first go looking exactly as the photo, result! Thank you, I can't wait to see what the tribe thinks
Maddee Gardiner
This sauce never disappoints. I have tried it with white sugar as in other recipes and it never works properly. I'm up making a cake for a friend and the caramel sauce didn't work so I have come back to this. It really never fails and you don't have to be exact. Donna and team thank you