summer stone fruit tart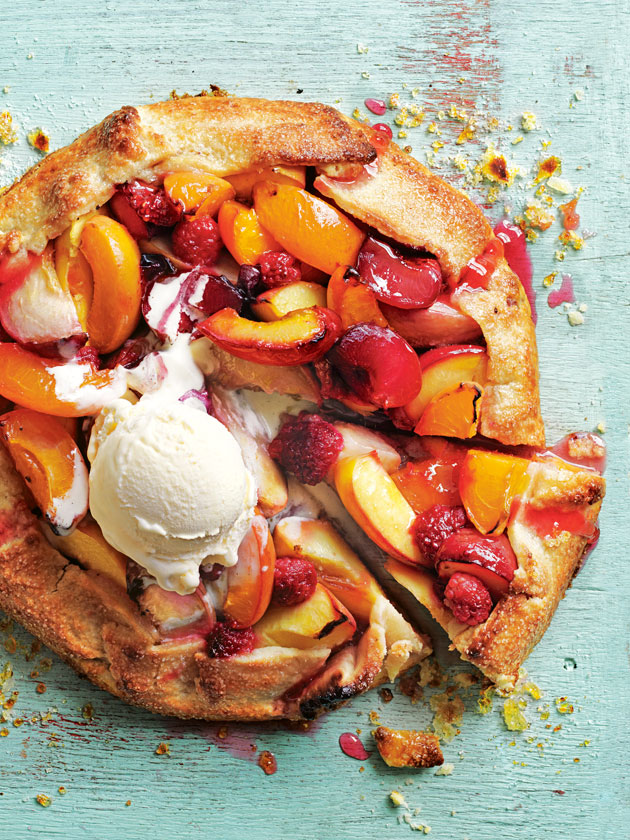 ⅓ cup (40g) almond meal

800g mixed stone fruit+, stones removed and cut into wedges
125g raspberries

¼ cup (55g) caster (superfine) sugar

1 egg, lightly beaten

1 tablespoon white (granulated) sugar, for sprinkling

vanilla ice-cream, to serve

pastry
1½ cups (225g) plain (all-purpose) flour

¼ cup (55g) caster (superfine) sugar

100g cold unsalted butter, chopped

2 teaspoons apple cider vinegar

¼ cup (60ml) iced water

1 teaspoon vanilla extract

To make the pastry, place the flour, sugar and butter in a food processor and pulse until the mixture resembles coarse breadcrumbs. Add the vinegar, water and vanilla and process until a rough dough forms. Turn out onto a clean surface and gently bring the dough together. Shape into a disc and wrap in plastic wrap. Refrigerate for 1 hour or until firm.
Preheat oven to 200°C (400°F). Roll out the pastry between 2 sheets of non-stick baking paper to a 34cm round about 3mm thick. Place on a large lightly greased baking tray lined with non-stick baking paper. Spread pastry with almond meal, leaving a 5cm border. Place the stone fruit, raspberries and caster sugar in a large bowl and toss to coat. Top the almond meal with the fruit mixture, discarding any excess liquid, and fold over the edges of the pastry, pressing lightly to seal.
Brush with the egg and sprinkle with the white sugar. Refrigerate for 10 minutes or until firm. Cook for 30 minutes or until the pastry is golden and the fruit is blistered. Set aside to cool for 10 minutes. Serve with vanilla ice-cream. Serves 6–8.

+ Use whichever stone fruit you like. We've used peaches, white peaches, nectarines, white nectarines, apricots and plums.

There are no comments for this entry yet.