vanilla custard tarts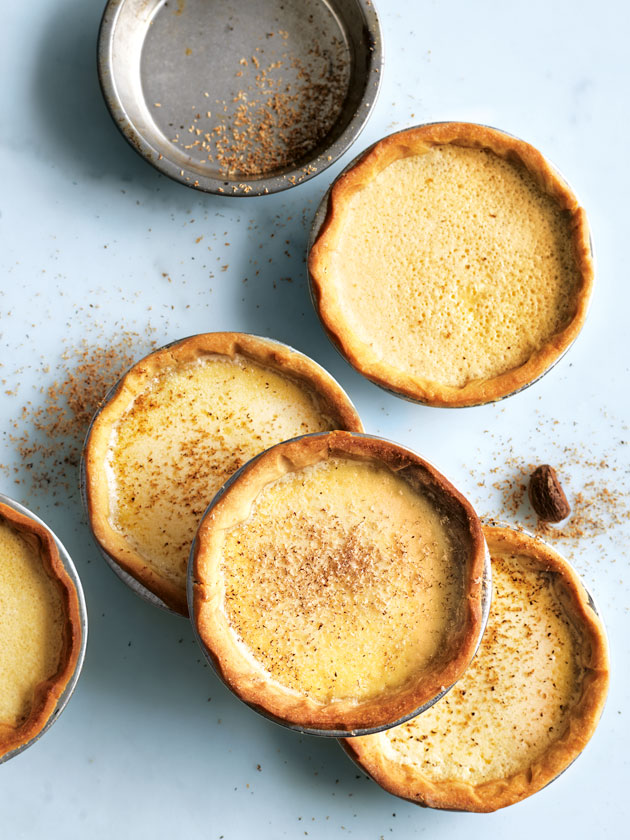 3 sheets frozen shortcrust pastry, thawed

3 eggs

3 egg yolks, extra

½ cup (110g) caster sugar

1 cup (250ml) milk

1 cup (250ml) single (pouring) cream

1 teaspoon vanilla bean paste

freshly grated nutmeg, for sprinkling

Preheat oven to 180°C (350°F). Place the pastry sheets on cutting boards and cut 6 x 14cm rounds. Use the rounds to line the base of 6 x 9cm pie tins.
Refrigerate for 30 minutes. Trim the edges of the pastry and line each with non-stick baking paper. Fill with baking weights and bake for 10 minutes. Remove the paper and weights and cook for 10 minutes.
Reduce oven temperature to 140°C (275°F). Place the eggs, egg yolks and sugar in a bowl and whisk until pale. Place the milk, cream and vanilla in a small saucepan over medium heat and bring to just below the boil. Gradually pour the hot milk mixture into the egg mixture and whisk to combine.
Pour the filling into the pastry shells and bake for 20–25 minutes or until just set. Allow to cool. Sprinkle with nutmeg to serve. Makes 6.
donna hay team
Hi Allyson, yes of course you can use the basic shortcrust pastry recipe for this. No changes needed. Happy baking!
Allyson Pannier
Can you use the basic shortcut pastry recipe for the the pastry instead of the frozen? Would it change the cooking time?