triple chocolate brownie mix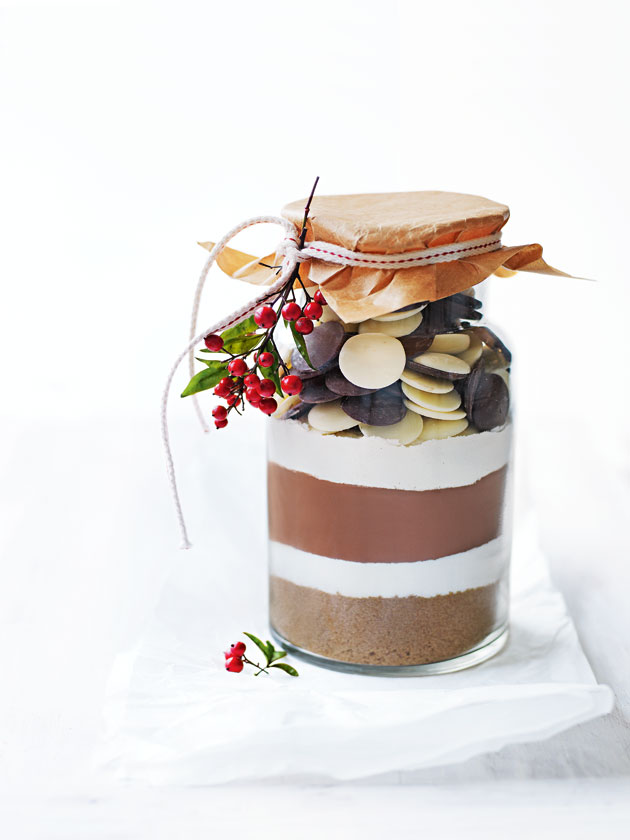 ​to assemble your mix:
¾ cup (130g) brown sugar
½ cup (110g) caster (superfine) sugar
¾ cup (75g) cocoa powder
½ cup (75g) plain (all-purpose) flour
¼ teaspoon baking powder
100g dark chocolate melts and 100g white chocolate melts
1.25-litre-capacity glass jar
Preheat oven to 160°C (325°F). Place the dry ingredients in a large bowl.
Add 150g melted unsalted butter, 1 teaspoon vanilla extract and 3 lightly beaten eggs and mix well to combine.
Pour the mixture into a lightly greased 20cm square baking tin lined with non-stick baking paper. Bake for 30–35 minutes or until just set. Allow to cool completely in the tin. Cut into squares to serve. Makes 16
TIP:
+ When assembling the brownie and cookie mixes, press the ingredients down firmly with the back of a spoon to create tight, even layers in the jars.
Photography Chris Court
donna hay team
Hello Donna, you do not need to melt the chocolate buttons, as they are suppose to be chunks in the mixture. The DH Team
Donna Busuttil
Do you melt chocolate buttons with butter?