vanilla sponge cake with cream and passionfruit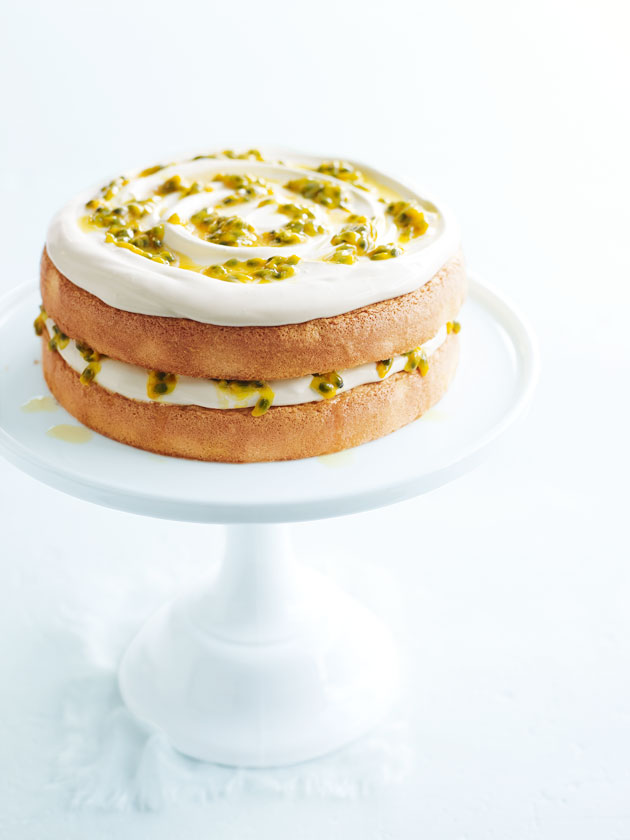 ⅔ cup (100g) plain (all-purpose) flour
½ teaspoon baking powder
4 eggs
½ cup (110g) caster (superfine) sugar
1 teaspoon vanilla bean paste
75g unsalted butter, melted and cooled
½ cup (120g) sour cream
½ cup (125ml) single (pouring) cream
2 tablespoons icing (confectioner's) sugar, sifted
⅓ cup (80ml) passionfruit pulp (approximately 4 passionfruit)

Preheat oven to 180°C (350°F). Line 2 x 20cm-round lightly greased shallow cake tins with non-stick baking paper. Sift the flour and baking powder three times and set aside. Place the eggs, sugar and vanilla in an electric mixer and whisk on high speed for 12–15 minutes or until pale, thick and tripled in volume. Sift half the flour mixture over the egg mixture and using a large metal spoon, gently fold to combine. Repeat with the remaining flour. Add the butter and gently fold to combine.
Divide mixture between the tins and gently smooth the tops with a palette knife. Bake for 14–18 minutes or until the sponges are springy to the touch and come away from the sides of the tins. Remove the cakes from the tins and cool completely on a wire rack covered with a tea towel.
Place the sour cream, cream and sugar in a bowl and whisk until soft peaks form. Spread one cake with half the cream mixture and drizzle with half the passionfruit. Sandwich with the remaining cake and top with the remaining cream and passionfruit to serve. Serves 6.

There are no comments for this entry yet.