broccoli pesto pasta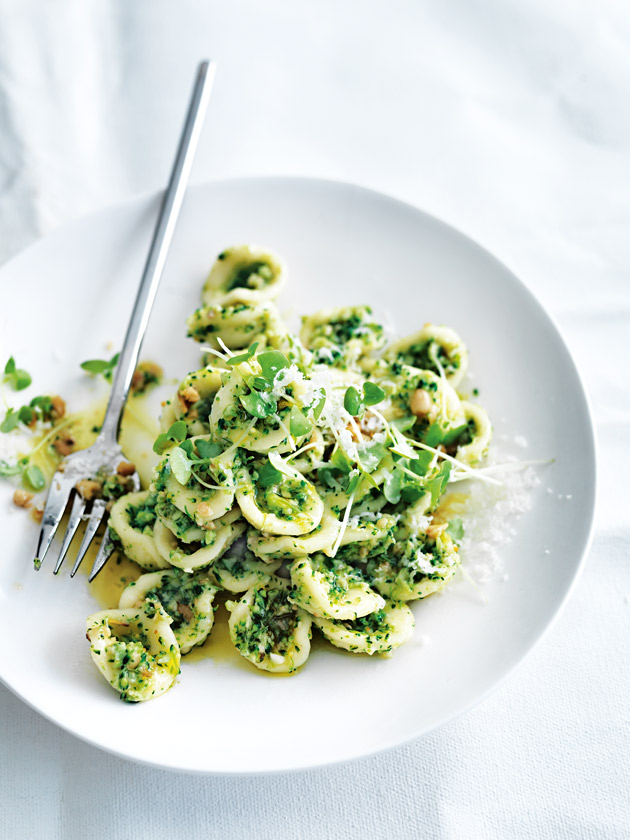 800g broccoli, cut into small florets

¾ cup (120g) pine nuts, toasted

1 clove garlic, crushed

1 tablespoon finely grated lemon rind

¼ cup (60ml) lemon juice

¼ cup (60ml) extra virgin olive oil, plus extra, for drizzling

2 cups (160g) finely grated parmesan, plus extra, to serve

sea salt and cracked black pepper

500g orecchiette+

baby (micro) basil leaves, to serve

Place the broccoli, ½ cup (80g) of the pine nuts, the garlic, lemon rind and juice, oil, parmesan, salt and pepper in a food processor and process until roughly chopped. Set aside. Crush the remaining pine nuts and set aside.

Cook the pasta in a large saucepan of salted boiling water according to packet instructions or until al dente. Drain, reserving ¾ cup (180ml) of the cooking liquid.

Return the pasta and cooking liquid to the pan over medium heat, add the broccoli mixture and stir for 1–2 minutes or until well combined.

Divide the pasta between plates and top with the reserved pine nuts, extra parmesan and basil leaves.
Drizzle with the extra oil to serve. Serves 4.
+ Find orecchiette at supermarkets and delis. You can also use small shells.
Photography: William Meppem
Styling: Steve Pearce
Susie Carpanini
Far too much broccoli for four people! One head of broccoli is plenty. You could probably get away with half a head. I nearly blew up my food processor making this amount. Still, I've popped the rest in the fridge and will stir it into things for days to come.
cece e
Interesting flavour. Made a batch of this pesto and have been using it when making couscous, marinating chicken , coating spuds for roasting. Really pleased with it.