caramel maple mud cupcakes with fudge frosting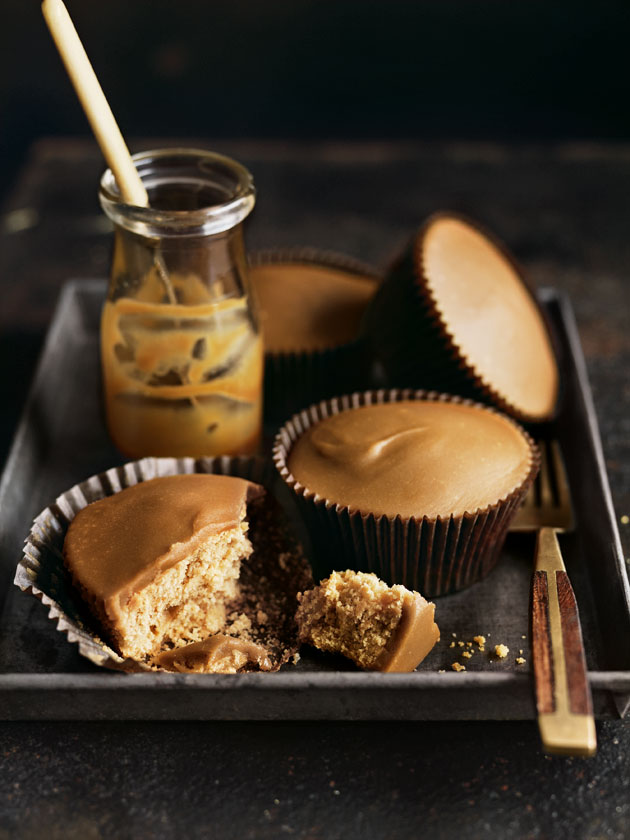 ¼ cup (60ml) maple syrup

⅔ cup (160ml) milk

⅔ cup (120g) dark brown sugar

150g unsalted butter, chopped

75g white chocolate, chopped

1 cup (150g) plain (all-purpose) flour, sifted

⅓ cup (50g) self-raising (self-rising) flour, sifted

1 egg

caramel fudge frosting
1 cup (175g) dark brown sugar

100g unsalted butter, chopped

¼ teaspoon table salt

¼ cup (60ml) milk

1 teaspoon vanilla extract

1 cup (160g) icing (confectioner's) sugar, sifted

Preheat oven to 160°C (325°F). Place the maple syrup, milk, sugar, butter and chocolate in a saucepan over low heat and stir until melted and smooth. Pour the mixture into a large bowl and allow to cool for 15 minutes. Add both the flours and whisk until just combined. Add the egg and whisk until smooth. Divide the mixture between 8 x 1 cup-capacity (250ml) muffin tins lined with paper cases. Bake for 25–30 minutes or until cooked when tested with a skewer. Allow to cool on a wire rack.
To make the caramel fudge frosting, place the sugar, butter and salt in a small saucepan over low heat and stir until the sugar is dissolved. Increase heat to high, add the milk and vanilla and bring to the boil for 3 minutes, stirring occasionally. Remove from the heat. Add the icing sugar and whisk until smooth. Working quickly, spread the cupcakes with the caramel fudge frosting (see tip) and allow to set. Makes 8.

Tip: If the frosting hardens before all the cupcakes are iced, place the saucepan over medium heat and stir until caramel is melted and smooth.
Photography: Chris Court
Emma Vella
Hi, would this work if I baked it as a cake instead of cupcakes? I guess just longer cooking time? Thanks
Katrina Lowe
Made these for a colleague's birthday and they were an absolute hit!