bacon-wrapped meatloaf with quince glaze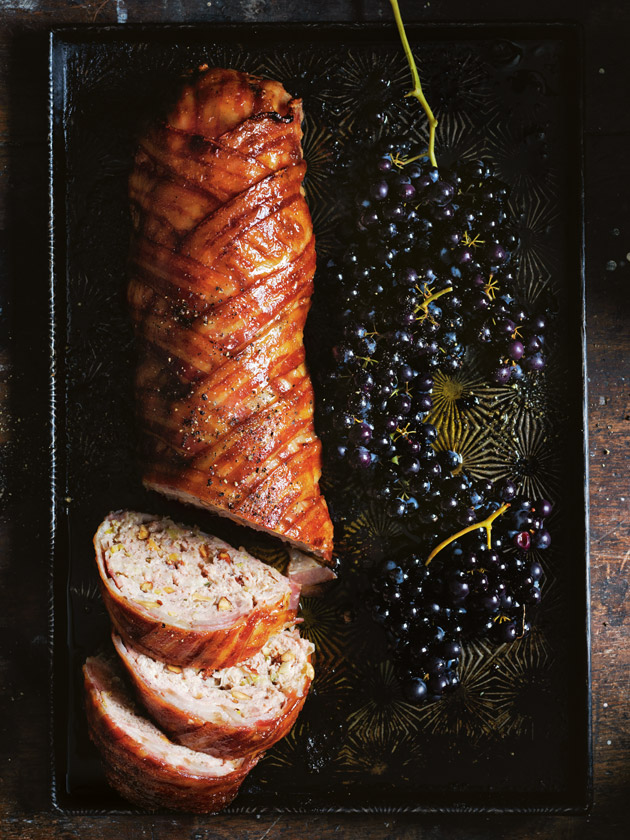 1 tablespoon extra virgin olive oil

2 leeks, thinly sliced

2 cloves garlic, crushed

2 tablespoons lemon thyme leaves

1½ cups (105g) sourdough breadcrumbs

⅓ cup (80ml) milk

350g pork mince

350g veal mince

½ cup (80g) smoked almonds, chopped

½ teaspoon sea salt flakes

100g quince paste

⅓ cup (80ml) water

22 slices streaky bacon

200g bunch black grapes

Preheat oven to 220°C (425°F). Heat the oil in a large non-stick frying pan over medium heat. Add the leek, garlic and thyme, and cook for 10–12 minutes or until softened.

Place the breadcrumbs and milk in a large bowl and set aside for 5 minutes to soften. Add the pork mince, veal mince, almond, salt and leek mixture and mix well to combine.

Place the quince paste and water in a small frying pan over medium heat. Cook, stirring, for 4–5 minutes or until melted and combined. Set aside.

Line a large oven tray with baking paper. Starting at each short end of the tray, lay 3 bacon slices, side-by-side, so they extend into the middle (they might not quite meet). Lay the remaining bacon slices in 2 rows of 8 across the first slices. Top the bacon with the mince mixture and shape into a thin loaf on the tray. Wrap the 6 end slices of bacon up and over the ends of the meatloaf.
Starting at one end, wrap the 16 bacon slices, overlapping at an angle, over the loaf to cover it. Brush with the quince glaze and cook for 30 minutes, brushing every 15 minutes with the glaze. Add the grapes to the tray and cook for a further 2 minutes or until cooked through. Set aside to rest for 10 minutes before slicing. Serves 6.