baked red chicken curry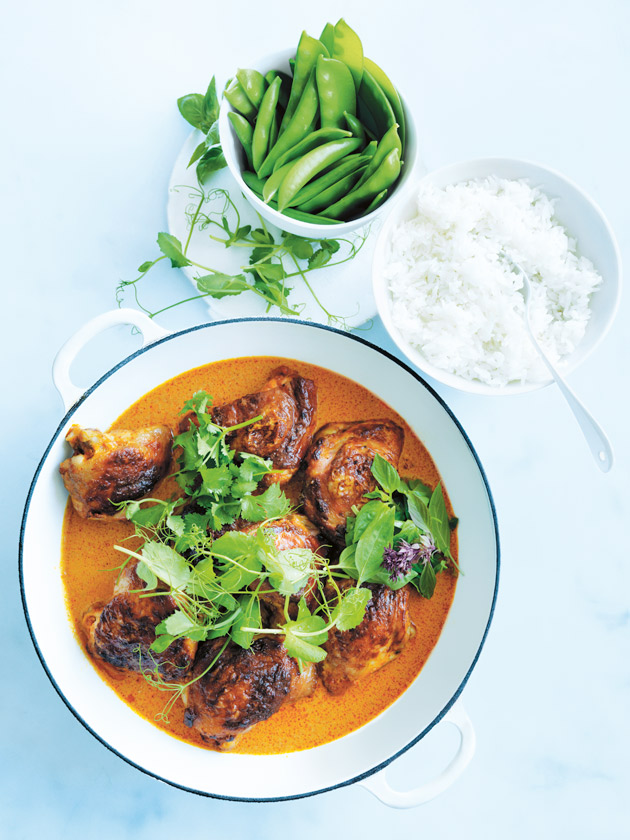 8 x 125g chicken thigh fillets, skin on

⅓ cup (100g) store-bought Thai red curry paste

1 x 400ml can coconut milk

1 cup (250ml) chicken stock

1 tablespoon fish sauce

4 Thai lime leaves

coriander (cilantro) and basil leaves, snow pea (mange tout) tendrils or shoots and lime wedges, to serve
steamed greens and jasmine rice, to serve
Preheat oven to 220°C (425°F). Place the chicken, skin-side up, in a heavy-based ovenproof casserole dish.
Combine the curry paste, coconut milk, stock and fish sauce and pour over the chicken. Add the lime leaves, cover with a lid and bake for 20 minutes.
Remove the lid and bake for a further 20–25 minutes or until the chicken is cooked through and golden.
Sprinkle with the coriander, basil, snow pea tendrils and serve with lime wedges, steamed greens and jasmine rice. Serves 4
Photography: William Meppem
Veronica Guardiola
Delicious and super easy do-ahead recipe. I needed to add coconut sugar but I guess it depends on the red curry paste brand. Thank you Donna!
Louise Haynes
Love this recipe! It is a favourite in our household. Super easy to throw together.
Linda Seymour
This is definitely a 'make again' recipe. It's so simple and it's really a 'one pot' meal. The flavours are perfectly balanced and yummy too!
I will try a more shallow dish next time I cook this, as I think this will promote the crispy skin look you see in the recipe photo. I served steamed baby buk choy and snake beans with naan bread to soak up the sauce - don't forget to use the lime wedges to squeeze the juice over your meal as this makes a lovely, tangy addition to the flavours.
Kate Schurmann
Simple and delicious! Will definitely make this again