balsamic-brined salt-crusted chicken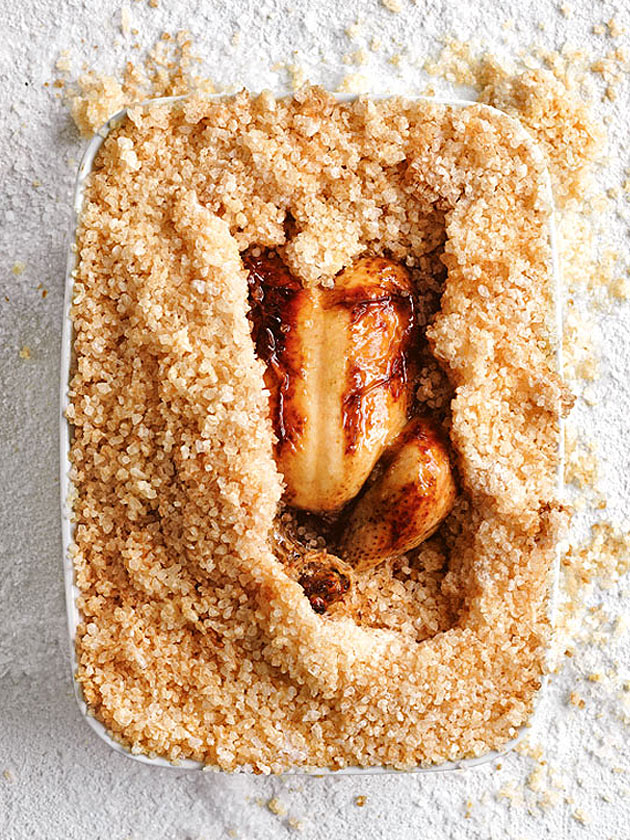 2½ cups (625ml) balsamic vinegar

½ cup (90g) brown sugar

1 litre water

4 bay leaves

1 litre cold water

1.6kg whole chicken

2kg rock salt

3 egg whites

Place the vinegar, sugar, water and bay leaves in a large saucepan over high heat and bring to the boil, stirring to dissolve the sugar. Remove from heat, add the cold water and mix to combine. Add the chicken, breast-side down, ensuring it is completely submerged. Refrigerate for 4 hours to brine.
Preheat oven to 180°C (350°F). Remove the chicken and pat dry, discarding the brine.
Place the salt and egg whites in a large bowl and mix to combine. Place half of the salt mixture in a small roasting dish.
Top with the chicken and cover with the remaining salt mixture. Cook for 1 hour and 15 minutes or until the salt is hard and dry. Set aside to rest for 15 minutes before cracking the salt off and discarding to serve. Serves 4–6.
There are no comments for this entry yet.