saltimbocca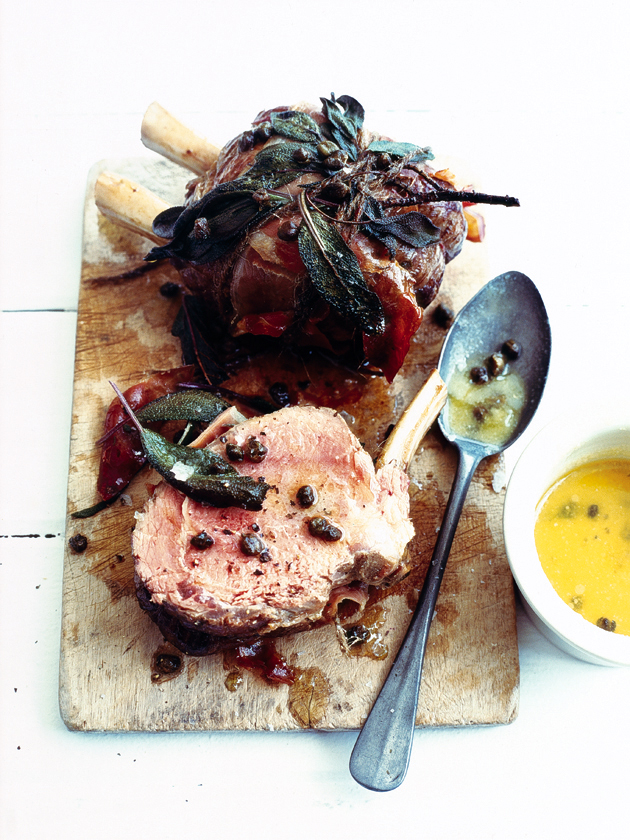 1 tablespoon olive oil
2 tablespoons salted capers, rinsed
2 x 350g double veal cutlets
olive oil, extra, for brushing
2 cloves garlic, crushed
2 slices prosciutto
1 bunch sage, leaves picked
white wine sauce
100g butter
1 clove garlic, sliced
⅓ cup (80ml) dry white wine
sea salt and cracked black pepper

Preheat oven to 220°C (425°F). To make the white wine sauce, melt the butter in a frying pan over high heat, add the garlic, wine, salt and pepper and cook for 1–2 minutes or until thickened. Set aside and keep warm.

Heat the oil in a frying pan over high heat. Add the capers and cook for 2–3 minutes or until crispy. Drain on absorbent paper and set aside.

Brush the veal with the extra oil and rub with the garlic, salt and pepper. Heat a frying pan over high heat and cook the veal for 1 minute each side. Wrap each cutlet with prosciutto, top with the sage and secure with kitchen string. Place on a baking tray and roast for 15 minutes for medium-rare or until cooked to your liking. Slice and serve with the white wine sauce and crispy capers. Serves 4.

There are no comments for this entry yet.