beef rendang with coconut and chilli sambal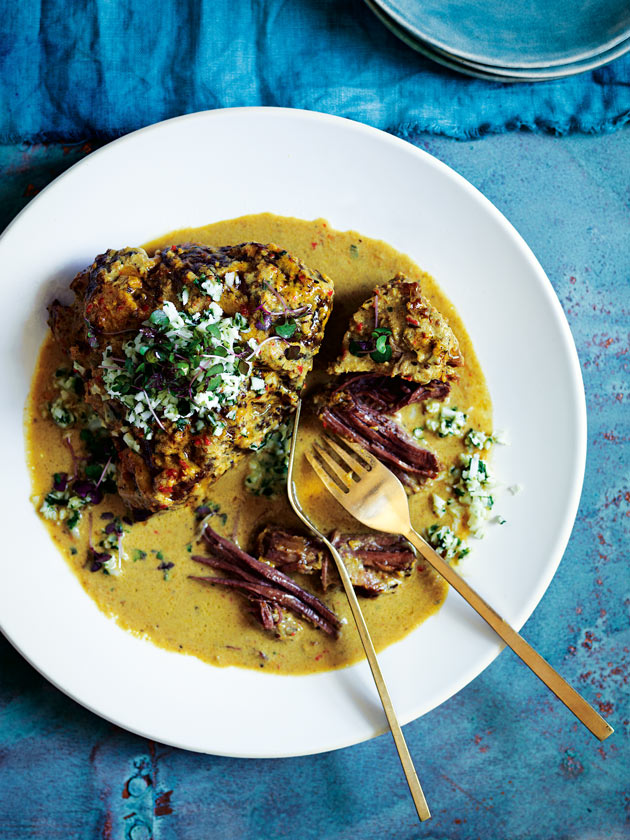 1 tablespoon peanut oil

1 x 1.5kg piece beef brisket, halved

sea salt flakes

2 x 400ml cans coconut milk

1½ cups (375ml) water

2 tablespoons fish sauce

6 kaffir lime leaves

1 stalk lemongrass, bruised

¼ cup (60ml) lime juice
rendang curry paste
2 tablespoons coriander (cilantro) seeds

¼ teaspoon white peppercorns

½ cup (40g) desiccated coconut

3 long red chillies, roughly chopped

2 eschalots (French shallots), roughly chopped

4 cloves garlic, roughly chopped

6cm piece (30g) fresh galangal+, peeled and roughly chopped

6cm piece (30g) fresh ginger, peeled and roughly chopped

2cm piece (10g) fresh turmeric+, peeled and roughly chopped

1 stalk lemongrass, white part only, sliced

4 kaffir lime leaves, shredded

1 tablespoon dark palm sugar

2 tablespoons peanut oil
coconut and chilli sambal
1½ cups (150g) grated fresh coconut++

2 tablespoons fish sauce

1 tablespoon lime juice

1 tablespoon finely chopped palm sugar

1 cup coriander (cilantro) leaves

1 green chilli, roughly chopped

Preheat oven to 180°C (350°F). Heat the oil in a large, heavy-based saucepan over high heat. Sprinkle the beef with salt and cook for 4–5 minutes each side or until well browned. Set aside.

To make the rendang curry paste, heat a small frying pan over medium heat. Add the coriander seeds and peppercorns and toast, shaking the pan frequently, for 2–3 minutes or until fragrant and light golden. Place in a small food processor and process until ground. Return the pan to the heat, add the coconut and cook, shaking the pan frequently, for 2–3 minutes or until toasted. Add the coconut to the spices with the chilli, eschalot, garlic, galangal, ginger, turmeric, lemongrass, lime leaves, sugar and oil and process, scraping down the sides of the bowl, until smooth.

Add the rendang curry paste to the pan and cook, stirring, for 1–2 minutes or until fragrant. Add the coconut milk, water, fish sauce, lime leaves and lemongrass and bring to the boil. Return the beef to the pan and cover with a tight-fitting lid. Roast for 2 hours, turn and roast, uncovered and turning the meat occasionally, for a further 1 hour or until the beef is tender and the sauce reduced.

To make the coconut chilli sambal, place the coconut, fish sauce, lime juice, sugar, coriander and chilli in a small food processor and process until coarsely chopped.

Add the lime juice to the beef and stir to combine. Top with the coconut and chilli sambal to serve. Serves 4.
+ Galangal is related to ginger and can be used in much the same way. It has a pink hue and its sharp flavour is perfect for adding freshness to curries.
++ To use a fresh coconut, drain the juice by inserting a metal skewer in the indented eye. Crack the shell with a sharpening steel or hammer. Gently prise the flesh from the shell using a butter knife. Grate with a box grater or Microplane. If you can't find fresh coconut, you could also use moistened coconut flakes.
donna hay team
Hi Maria, you could use soy sauce to replace the fish sauce. A vegetarian fish sauce does exist which is made from mushrooms, try looking in Asian grocery stores to find it. The DH team
Maria Prskalo
I am allergic to seafood. What can I use instead of fish sauce?