braised beef cheeks
with creamy polenta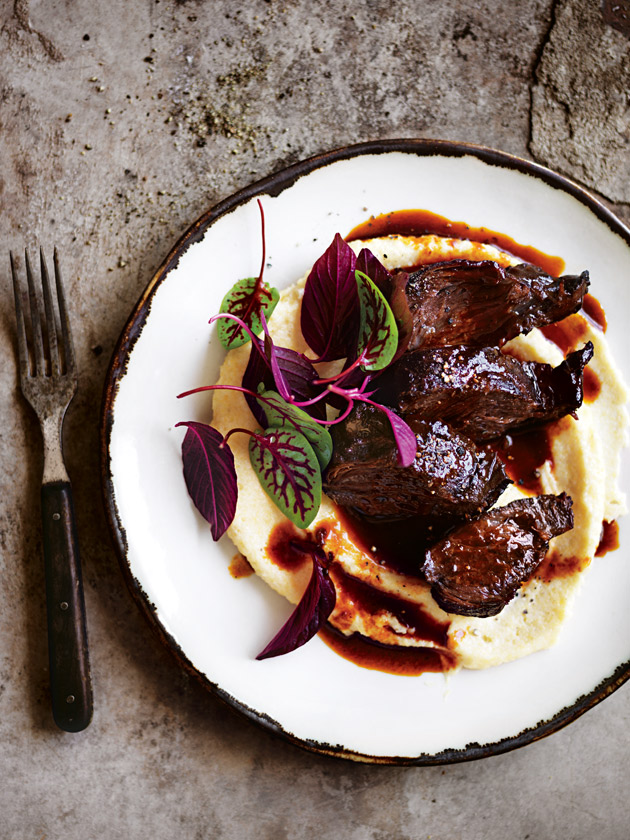 2 tablespoons extra virgin olive oil

4 x 320g beef cheeks, trimmed

sea salt and cracked black pepper

1 carrot, finely chopped

1 stalk celery, trimmed and finely chopped

3 cloves garlic, crushed

¼ cup (70g) tomato paste

½ cup (150g) store-bought caramelised
onion relish

2 bay leaves

1 cup (250ml) port

2 cups (500ml) beef stock

¼ cup (60ml) sherry vinegar

amaranth leaves and red-vein sorrel leaves, to serve
CREAMY POLENTA
1 litre milk

2 bay leaves

1 cup (170g) instant polenta (cornmeal)

40g unsalted butter, chopped

1 cup (120g) mascarpone

1 cup (250ml) milk, extra

Preheat oven to 180°C (350°F). Heat half the oil in a large heavy-based ovenproof saucepan over medium heat. Sprinkle the beef cheeks with salt and pepper and cook for 3–4 minutes each side or until well browned. Set aside.

Add the remaining oil to the pan, add the carrot, celery and garlic and cook for 3–4 minutes or until golden. Add the tomato paste and caramelised onion relish and cook, stirring, for a further minute. Add the bay leaves, port, stock, vinegar and beef cheeks. Increase the heat to high and bring to a simmer.

Cover with a tight-fitting lid, transfer to the oven and cook for 2 hours 15 minutes–2 hours 30 minutes or until the beef is tender. Remove the beef cheeks and set aside. Strain the sauce, discarding the solids. Return the beef cheeks and sauce to the pan and keep warm.
To make the creamy polenta, place the milk and bay leaves in a large saucepan over medium heat and bring to a simmer. Remove the bay leaves and reduce heat to low. Gradually add the polenta and cook, whisking continuously, for 2–3 minutes or until thickened.

Add the butter, mascarpone, extra milk, salt and pepper and whisk to combine.
Divide the polenta between plates. Slice the beef cheeks and place on top of the polenta. Top with amaranth and sorrel leaves to serve. Serves 4.

Andrew Stewart
Fantastic recipe. Although, there needs to be a comment that the veggies from the pot should be included as a garnish over the beef cheeks. Wow! They are super tasty.
donna hay team
Hi Joanne, as we do not test any of our recipes in a slow cooker it is tricky to say. Trial and error might be the best bet. Good luck!
Joanne Eggleston
Hello, I'm wanting to make this in the slow cooker, however, the sauce ends up very watery due to condensation. Should I reduce the amount of beef stock, to solve this issue? If so, how much should I reduce the liquid by?
donna hay team
Hi Andrea, yes no problem at all to use red wine vinegar. The DH team
Andrea Addison
Would it be ok to use red wine vinegar instead for the sherry vinegar? Thanks
donna hay team
Hi Corrina, if you're after a non alcoholic substitute for the port we would suggest substituting with water (rather than extra beef stock which may make it too salty once the sauce reduces.) Without the port you lose a little of the sweetness so if you feel it needs it you could add 2 tablespoons of brown sugar or maple syrup. Happy cooking! The DH team.
Corrina Fisher
Please advise if I can either omit or substitute the port? Thank you x
RELATED VIDEO