broccoli, bacon and crispy sage orecchiette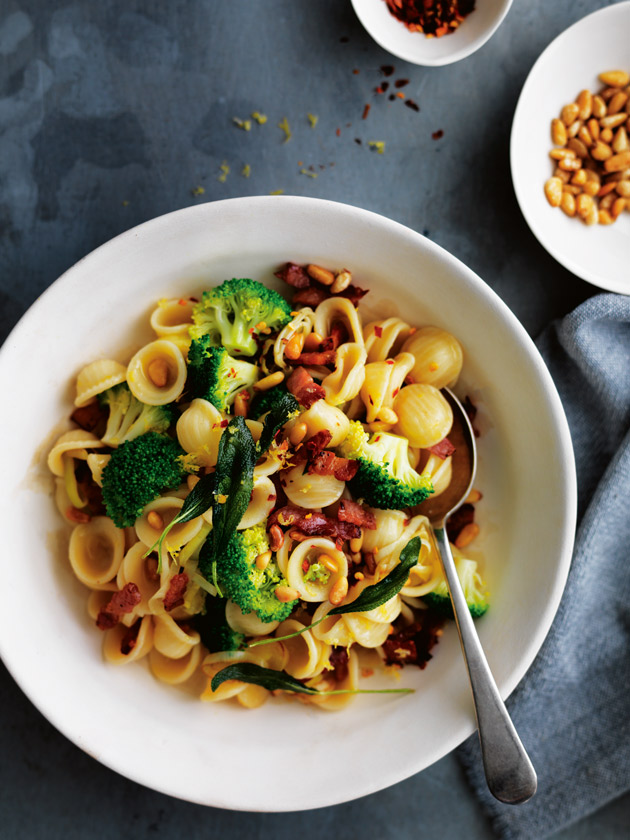 400g orecchiette
650g broccoli, cut into small florets
2 tablespoons extra virgin olive oil
1 cup sage leaves
200g streaky bacon, thinly sliced
1 leek, white part only, thinly sliced
½ teaspoon dried chilli flakes
toasted pine nuts and finely grated lemon rind, to serve
Cook the pasta in salted boiling water for 8 minutes. Add the broccoli and cook for a further minute or until the broccoli is tender and pasta is al dente. Drain and set aside.
While the pasta is cooking, heat the oil in

a large frying pan over high heat. Add the sage and cook for 30 seconds or until the sage is crisp. Remove from the pan and set aside.
Add the bacon and leek to the pan and cook for 3–4 minutes or until softened. Add the broccoli and pasta and stir to combine. Divide between bowls and top

with the crispy sage, chilli, pine nuts and lemon rind to serve. Serves 4.
Lisa Donnellan
Love the sage with bacon, a very tasty dish!