cauliflower mac and cheese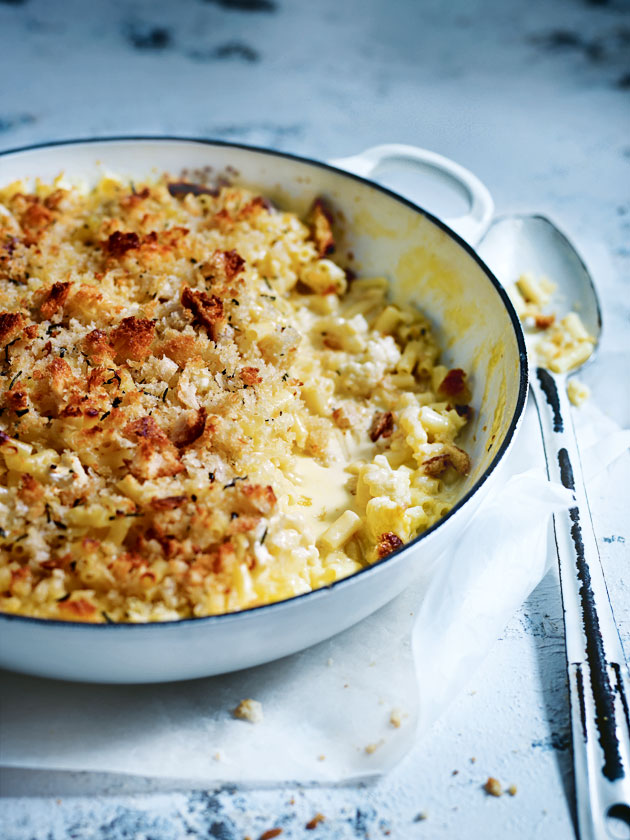 250g macaroni
700g cauliflower, leaves trimmed and cut into small florets
1¼ cups (310ml) milk
1 cup (250ml) single (pouring) cream
2 cups (240g) grated cheddar
2 cups (160g) finely grated parmesan
sea salt and cracked black pepper
3 cups (210g) chunky fresh sourdough breadcrumbs
1 clove garlic, crushed
2 tablespoons rosemary leaves, chopped
50g unsalted butter, melted

Preheat oven to 200ºC (400ºF). Cook the pasta in a large saucepan of salted boiling water for 8 minutes.

Add the cauliflower and cook for a further 2 minutes or until tender. Drain and return to the saucepan with the milk, cream, cheddar, parmesan, salt and pepper. Reduce the heat to low and cook, stirring to coat.

Divide the macaroni mixture between 2 x 1.5-litre-capacity ovenproof dishes. Mix to combine the breadcrumbs, garlic, rosemary and butter and divide between the dishes. Bake for 15–20 minutes or until golden and crunchy. Serves 4.

Sera Beki
Nice and light. Although I'd use a fraction of the bread crumbs