cheat's marmalade glazed ham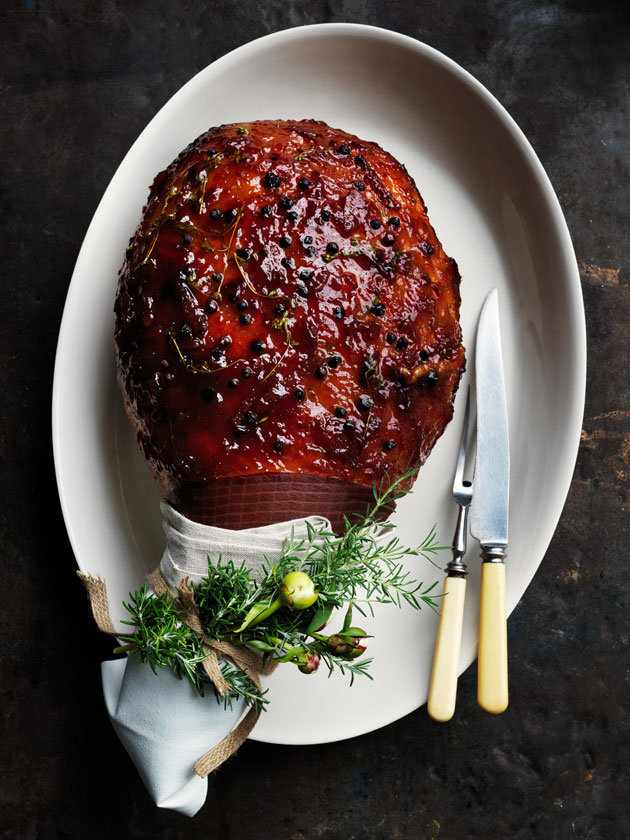 marmalade glaze
1½ cup (510g) store-bought seville orange marmalade jam
1 tablespoon juniper berries
6 sprigs thyme
Preheat oven to 200°C (fan-forced).

To make the marmalade glaze, place the jam, juniper and thyme in a saucepan over medium low heat. Cook for 3–5 minutes or until heated through. Set aside to cool slightly.

Use a sharp knife to score the skin around

the sides and hock of the ham, before using your fingers to gently remove the rind. Trim any excess fat. Wrap ham hock with non-stick baking paper then aluminium foil.

Place the ham in a baking dish lined with non-stick baking paper. Brush with the marmalade glaze. Cook for 35–40 minutes, brushing occasionally with the glaze until the ham is golden.

Serves 8–10
+ This recipe calls for a whole leg of ham with the bone in that has been pre-cured and pre-cooked. If you can't buy a pre-cooked ham in your part of the world (sometimes the case in the UK), ask your local butcher for a cured leg and follow their cooking instructions before glazing.
Photography: Chris Court
There are no comments for this entry yet.