chicken and mushroom pot pies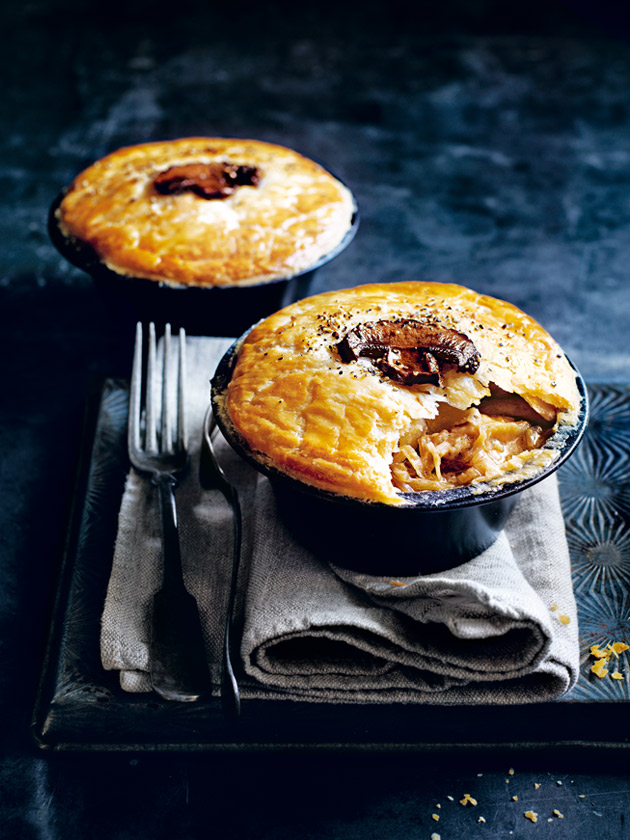 1 tablespoon extra virgin olive oil, plus extra for brushing

30g unsalted butter

4 onions, thinly sliced

sea salt and cracked black pepper

250g Swiss brown mushrooms, sliced

1 cup (150g) plain flour

6 x 150g chicken thigh fillets, trimmed and chopped into 2cm pieces

2 teaspoons chopped tarragon

1½ cups (375ml) chicken stock

¾ cup (180g) crème fraîche

2 sheets frozen shortcrust pastry, thawed

1 egg, lightly beaten

Preheat oven to 180°C (350°F). Place the oil and butter in a large non-stick frying pan over medium heat. Add the onion, salt and pepper and cook, stirring occasionally, for 15 minutes or until the onion is golden and very soft. Add the mushroom, reserving 4 slices for the pie tops, and cook for 4 minutes or until the mushroom is browned.
Place the flour in a large bowl and sprinkle with salt and pepper. Add the chicken and toss to coat. Dust off any excess flour, add the chicken to the pan with the onion and cook for 4 minutes or until golden. Add the tarragon and stock and cook, stirring, for 5 minutes or until thickened. Remove from the heat, add the crème fraîche and stir to combine.

Spoon into 4 x 1½-cup-capacity (375ml) ramekins. Cut the pastry into rounds to fit the tops and place onto each pie. Brush the pastry with egg. Lightly brush the reserved mushroom with extra oil and place on the pies to decorate. Bake for 12–15 minutes or until the chicken is cooked through and the pastry is golden. Makes 4
Wine note: these cosy pies, with creamy chicken and mushrooms in a flaky pastry, call for a cool glass of balanced chardonnay. Exotic and smoky, Cloudy Bay Chardonnay is just the ticket. You'll notice the subtle characters of roasted hazelnuts coming through.
Photography: Chris Court
Rheena Krishnan
So good! Replaced with what I had at hand..single cream and thyme leaves Yummers!
Ellen Jennings
Donna, this is a beautiful pot pie recipe. I have made it a few times now and used sour cream, chicken breast & dried tarragon. The flavour is still delicious though I'm looking forward to making it with fresh Tarragon. I double the recipe & cook what I need then save the balance prepared in the fridge for the following night. Thank you so much!