chicken in white wine
with lemon potatoes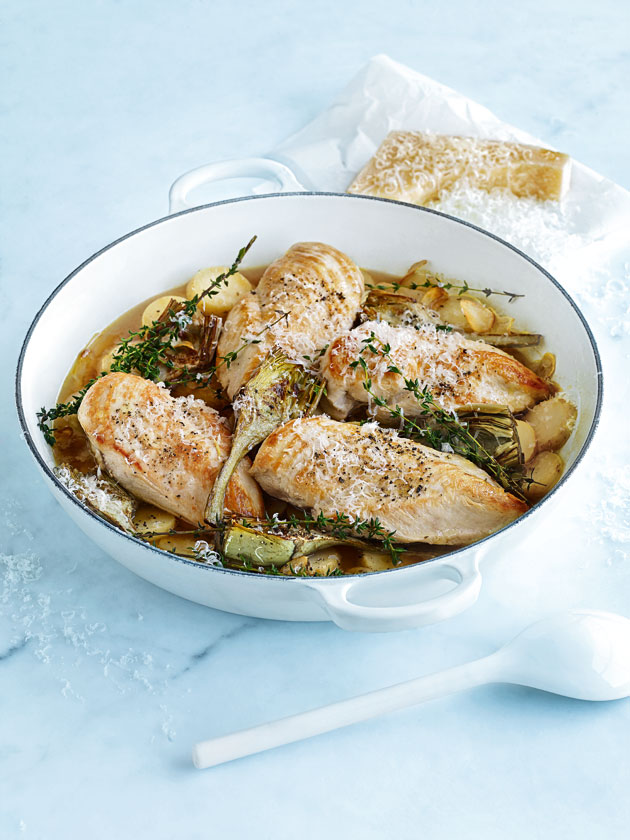 1 tablespoon extra virgin olive oil
4 x 180g chicken breast fillets, trimmed
sea salt and cracked black pepper
4 marinated artichokes, halved
2 cloves garlic, thinly sliced
500g chat (baby) potatoes, cut into 1cm slices
1 cup (250ml) chicken stock
½ cup (125ml) dry white wine
8 sprigs thyme
2 tablespoons lemon juice
finely grated parmesan, to serve

Heat the oil in a large shallow heavy-based ovenproof saucepan over high heat. Sprinkle the chicken with salt and pepper and cook for 2–3 minutes each side or until browned. Remove from the pan and set aside.

Add the artichokes and cook for 1–2 minutes each side. Add the garlic and cook for 30 seconds or until lightly browned.

Add the potato, stock, wine and thyme and bring to the boil. Top with the chicken, cover with a tight-fitting lid and reduce the heat to medium. Cook for 10–12 minutes or until the chicken is cooked through and the potatoes are tender. Add the lemon juice and stir to combine. Top with the parmesan and pepper to serve. Serves 4.

Farah Haroon
I like the flavor the artichoke and lemon and thyme provide, but overall the dish was a little bland. I should mention that I don't like wine, so I did not use wine (substituted broth), not sure if adding it would have made a huge difference.