moroccan chicken and carrot salad
with whole-wheat couscous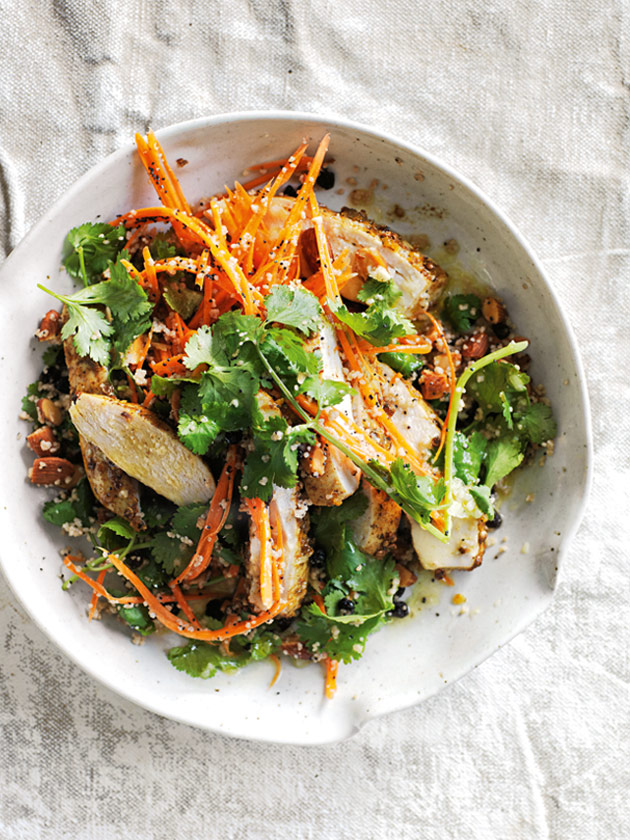 2 tablespoons extra virgin olive oil

1 teaspoon ras el hanout

1 tablespoon chopped preserved lemon rind

1 teaspoon coriander seeds, crushed

3 x 200g chicken breast fillets, trimmed

1½ cups (240g) dried whole-wheat couscous

1½ cups (375ml) boiling water

sea salt flakes

3 carrots, peeled and shredded

1 cup (160g) smoked almonds, chopped

½ cup (80g) dried currants

2 tablespoons poppyseeds

3 cups coriander (cilantro) leaves

orange dressing
2 tablespoons extra virgin olive oil

¼ cup (60ml) orange juice

2 tablespoons white wine vinegar

1 clove garlic, crushed

1 teaspoon Dijon mustard

To make the orange dressing, place the oil, orange juice, vinegar, garlic and mustard in a bowl. Whisk to combine and set aside.

Preheat oven to 220°C (425°F). Place the oil, ras el hanout, lemon rind and coriander seeds in a small bowl and mix to combine. Place the chicken on a baking tray lined with non-stick baking paper and brush with the ras el hanout mixture. Roast for 12–15 minutes or until golden and cooked through. Allow to cool slightly before slicing into strips.

While the chicken is roasting, place the couscous, water and a pinch of salt in a large bowl and cover with plastic wrap. Set aside for 5 minutes or until the water is absorbed.

Fluff the couscous with a fork and add the carrot, almonds, currants, poppyseeds, coriander and the chicken. Top with the orange dressing, toss to combine and divide between bowls to serve. Serves 4.

There are no comments for this entry yet.