classic-tomato-baked meatloaf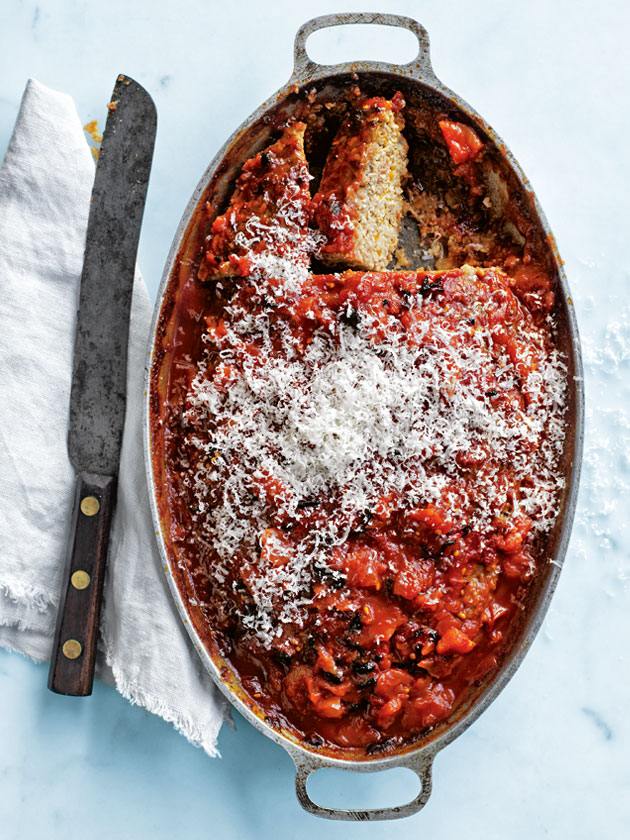 1 tablespoon extra virgin olive oil

4 slices (100g) rindless streaky bacon, finely chopped

1 onion, finely chopped

1 carrot, finely chopped

4 cloves garlic, sliced

¾ cup (60g) rolled oats

½ cup (125ml) milk

500g beef mince

500g pork mince

2 eggs

2 tablespoons Worcestershire sauce

2 tablespoons tomato paste

2 teaspoons sea salt flakes

1 teaspoon cracked black pepper, plus extra to serve

400g can diced tomatoes

½ cup (125ml) water

¼ cup (60ml) maple syrup

finely grated parmesan, to serve
Preheat oven to 200°C (400°F). Heat the oil in a large non-stick frying pan over high heat. Add the bacon, onion, carrot and garlic and cook for 6–8 minutes or until softened.
Place the oats and milk in a large bowl and set aside for 5 minutes to soften. Add the beef, pork, eggs, Worcestershire sauce, tomato paste, salt, pepper and bacon mixture, and mix well to combine.
Shape into a large loaf and place in a heavy-based 1.5-litre-capacity ovenproof pan. Pour over the tomato, water and maple syrup, and cook for 45 minutes. Set aside to rest for 10 minutes before slicing. Sprinkle with finely grated parmesan to serve. Serves 6.
Tip: sliced leftover meatloaf makes a fantastic sandwich filling.
Maree English
Loved this meatloaf, Five stars.
I halved the recipe, just in case it didn't turn out, but it was delicious.
I'm making it again for dinner tonight, half the recipe again (there's only two of us), using beef mince only and might add smokey paprika and a tad more salt this time.
It sliced nicely, this recipe is a keeper.
It was absolutely delicious in sandwiches the next day.
ANA CAMPBELL
Loved it… amazing. I did add fresh herbs (thyme and parsley) to the filling… also added some fresh sage to the top. My first Meat Loaf… love you Donna, you inspire me!