creamy pasta with prosciutto and basil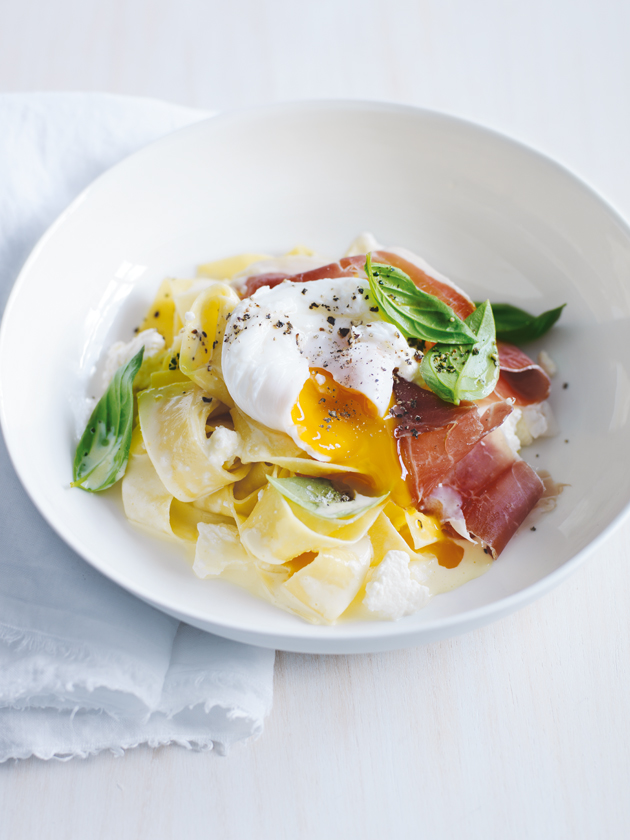 400g pappardelle
1 tablespoon extra virgin olive oil
4 cloves garlic, sliced
½ cup (125ml) single (pouring) cream
½ cup (40g) finely grated parmesan, plus extra, to serve
12 slices (180g) prosciutto
1 cup (200g) ricotta
2 cups basil leaves, plus extra, to serve
sea salt and cracked black pepper
4 eggs, poached+

Cook the pasta in a large saucepan of salted boiling water for 7–8 minutes or until al dente. Drain, reserving 1 cup (250ml) of the cooking liquid. Set aside. Heat the oil in the saucepan over medium heat, add the garlic and cook for 30 seconds. Add the cream and reserved water and cook for 1 minute. Return the pasta to the pan, with the parmesan, prosciutto, ricotta and basil, sprinkle with salt and pepper and toss to combine.

Divide the pasta between 4 plates, top with a poached egg, extra basil leaves and grated parmesan to serve. Serves 4.

+ To poach eggs, heat a few centimetres of water in a deep frying pan over low heat until just simmering. Add the vinegar and use a wooden spoon to create a whirlpool. Crack each egg into a bowl and slip into the water. Poach the eggs for 3−4 minutes, remove with a slotted spoon and drain well.
There are no comments for this entry yet.