creamy potato and salmon bake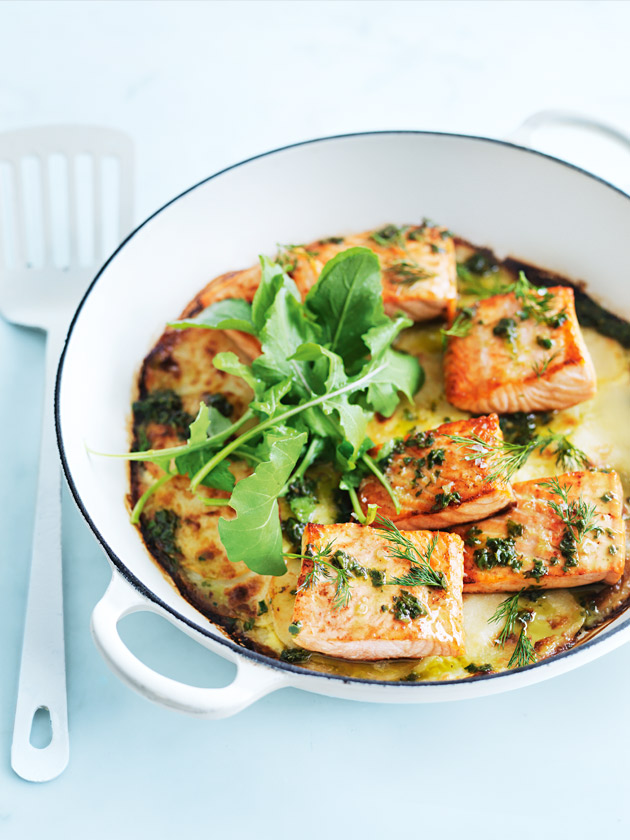 800g Sebago (starchy) potatoes, peeled and thinly sliced

½ cup (120g) crème fraîche

sea salt and cracked black pepper

2 tablespoons extra virgin olive oil

8 x 100g salmon fillets, skin off

⅓ cup (90g) store-bought basil pesto

50g rocket (arugula) leaves

¼ cup dill leaves

Preheat oven to 250°C (475°F). Place the potato, crème fraîche, salt and pepper in a large bowl and mix to combine.
Arrange in an even layer in a 24cm round heavy-based ovenproof saucepan, drizzle with 1 tablespoon of the oil and bake, uncovered, for 12 minutes.
Sprinkle the salmon with salt and pepper, drizzle with the remaining oil and place on top of the potatoes. Bake for a further 6 minutes or until golden and cooked to your liking. Drizzle with pesto and top with rocket and dill to serve. Serves 4.
Cat G
This was lovely, quick and easy to make in one oven proof frypan. Thankyou Donna.
I used sweet potato and zuchinis instead, and a can of lite coconut milk instead of the creme fraiche because I didnt have any. Thankyou x
Alison Evans
Amazing dish…. I used sweet potato & crispy skin salmon!! Absolutely delicious!!