CRISPY JUNIPER, ORANGE AND THYME DUCK
WITH CELERIAC AND CAULIFLOWER PUREE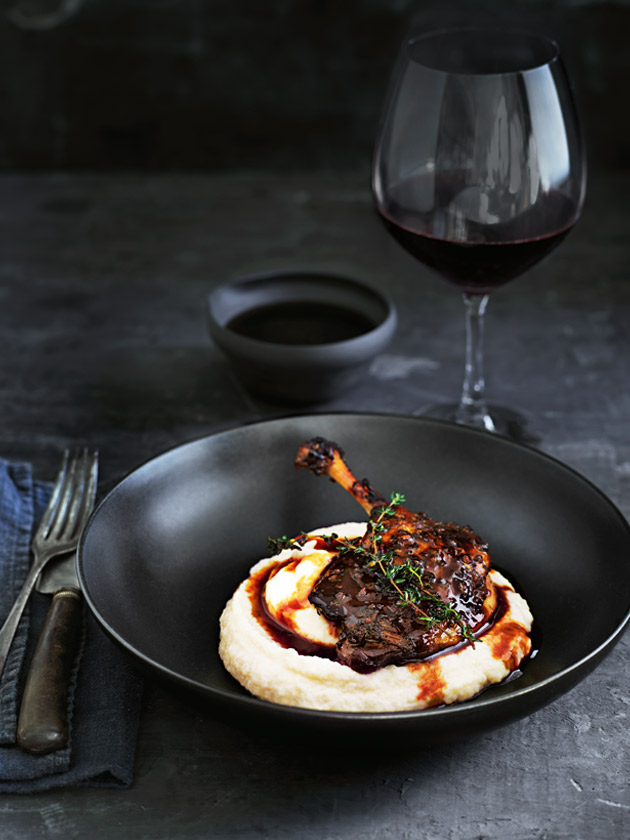 1½ tablespoons juniper berries

1 tablespoon finely grated orange rind

1 tablespoon lemon thyme leaves

4 cloves garlic

½ teaspoon sea salt flakes

1 teaspoon cracked black pepper

4 x 250g duck marylands

1 cup (250ml) chicken stock

⅓ cup (80ml) vincotto

¼ cup (60ml) orange juice

8 sprigs lemon thyme, extra

celeriac and cauliflower puree
1 tablespoon extra virgin olive oil

20g unsalted butter, chopped

1 leek, white part only, thinly sliced

1 medium celeriac (600g), peeled and chopped

½ cauliflower (380g), trimmed and chopped

1½ cups (375ml) milk

½ teaspoon sea salt flakes

Preheat oven to 150C (300F). Place the juniper, orange, thyme, garlic, salt and pepper in a mortar and pound with a pestle to form a coarse paste. Place the duck in a deep-sided roasting dish, rub the juniper mixture all over and place, skin-side down. Add the stock, vincotto and orange juice. Cover tightly with aluminium foil and cook for 2 hours. Carefully turn the duck over, cover and cook for a further hour. Remove the duck from the cooking liquid and place on an ovenproof tray. Set aside and keep warm. Strain the cooking liquid into a small bowl and place in the freezer for 20 minutes for the fat to set.

To make the celeriac and cauliflower puree, heat the oil and butter in a medium saucepan over medium heat. Add the leek and cook for 3 minutes. Add the celeriac, cauliflower, milk and salt and bring to the boil. Reduce heat to low, cover with a lid and cook for 15 minutes or until the celeriac is tender. Remove from the heat and set aside to cool slightly. Using a hand-held stick blender, blend until smooth. Set aside and keep warm.

Remove the cooking liquid from the freezer and discard the fat. Place the cooking liquid in a small saucepan over medium heat, bring to a simmer and cook for 2-3 minutes or until slightly reduced. Add the thyme sprigs and set aside. Preheat the grill (broiler) to high. Place the duck under the grill (broiler) and cook for 2 minutes or until the skin is crisp. Divide the celeriac puree and duck between 4 bowls. Top with the cooking liquid and thyme sprigs to serve. Serves 4.

Wine pairing note: You can accompany this succulent dish with a glass of Cloudy Bay Te Wahi Pinot Noir 2015. The softly textured drop's palate of spice and dark berry fruit is a seamless match for wild game, duck, venison and wagyu beef.
There are no comments for this entry yet.