crispy porchetta with almond milk roasted parsnips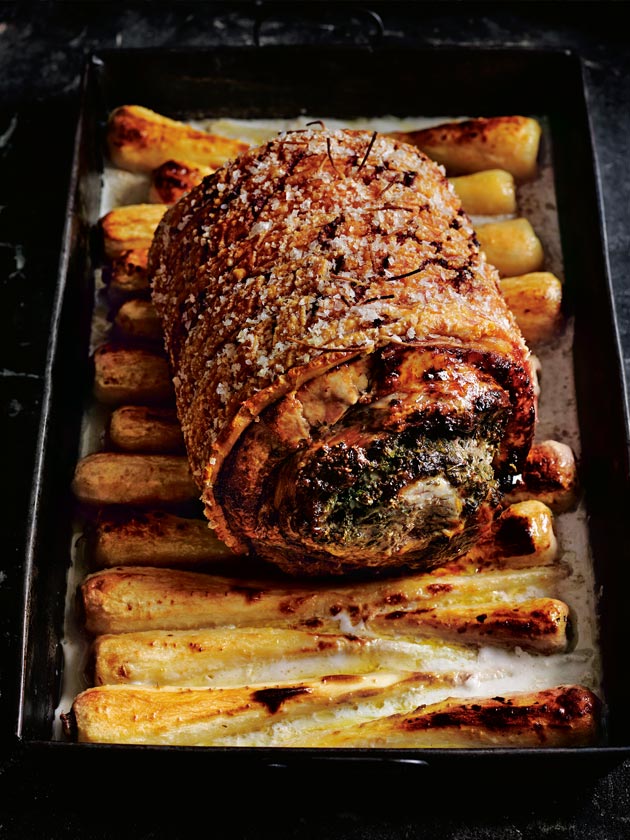 2.7kg pork loin, belly attached

⅓ cup (40g) sea salt flakes

2 teaspoons fennel seeds, toasted and crushed

2 cups flat-leaf parsley leaves, finely chopped

1 cup sage leaves, finely chopped

¼ cup rosemary leaves, finely chopped

3 cloves garlic, crushed

¼ cup (60ml) extra virgin olive oil

20 baby parsnips (1.2kg), peeled

2 cups (500ml) unsweetened almond milk

cracked black pepper

Using a small sharp knife, score the pork skin lengthways at 1cm intervals. Score the pork again, diagonally, at 1cm intervals. Rub the skin with 2 tablespoons of the sea salt flakes and refrigerate, uncovered, for 2–3 hours+.

While the pork is chilling, place the fennel and remaining salt in a small bowl and mix to combine. Place the parsley, sage, rosemary, garlic and 2 tablespoons of the oil in a medium bowl and mix to combine. Set aside.

Preheat oven to 220°C (425°F). Brush the salt from the pork and pat dry with paper towel to remove any excess moisture. Turn pork, skin-side down, and spread with the herb mixture. Roll to enclose and secure with kitchen string. Brush skin with the remaining oil and rub with the fennel salt mixture, ensuring the salt is rubbed well into the cuts. Place the parsnips, milk and pepper in the base of a large roasting dish and top with the pork. Cook for 25 minutes. Reduce heat to 200°C (400°F) and cook for a further 55–60 minutes or until skin is crackled and pork is cooked through. Rest for 10 minutes before serving. Serves 6.

+ This helps to draw the moisture out of the skin, to make it beautifully crispy.
There are no comments for this entry yet.