crispy pork belly with cider pickled pears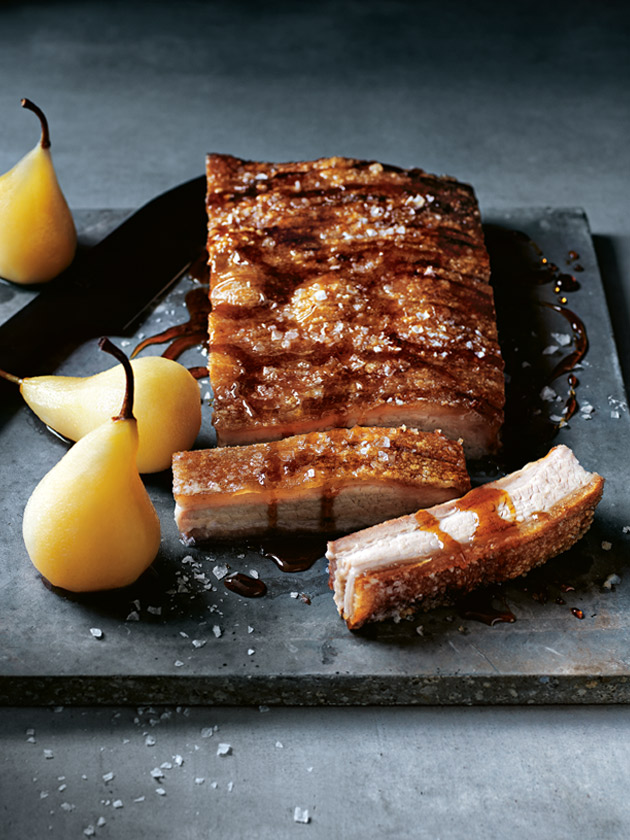 2 tablespoons sea salt flakes

1 x 1.5kg piece boneless pork belly, skin scored at 1cm intervals

1 tablespoon vegetable oil

1 cup (250ml) dry apple cider

1 cup (250ml) apple cider vinegar

6 thyme sprigs

2 fresh bay leaves

½ cup (110g) caster (superfine) sugar

3 cups (750ml) water

6 small firm beurre bosc pears, peeled

vincotto+ or balsamic glaze, to serve

Preheat oven to 180ºC (350ºF). Rub the salt into the pork skin, followed by the oil.
Place the pork, skin-side down, on a baking tray and roast for 1 hour. Increase the temperature to 200ºC (400ºF), turn the pork and cook for a further 1 hour or until the skin is golden and crunchy.
While the pork is roasting, make the pickled pears. Place the cider, vinegar, thyme, bay leaves, sugar and water in a medium saucepan over high heat. Add the pears, cover with a round of non-stick baking paper and top with a small lid to submerge the pears.
Poach for 20 minutes or until the pears are tender. Set aside in the pickling liquid.
Slice the pork and divide between plates with the pickled pears. Drizzle with the vincotto to serve. Serves 6.
+ Vincotto, meaning 'cooked wine' is a sweet-sour Italian condiment made from grapes. Find it at delicatessens and specialty food stores. It cuts through the richness of the pork.
There are no comments for this entry yet.