crispy pork belly with spiced plum sauce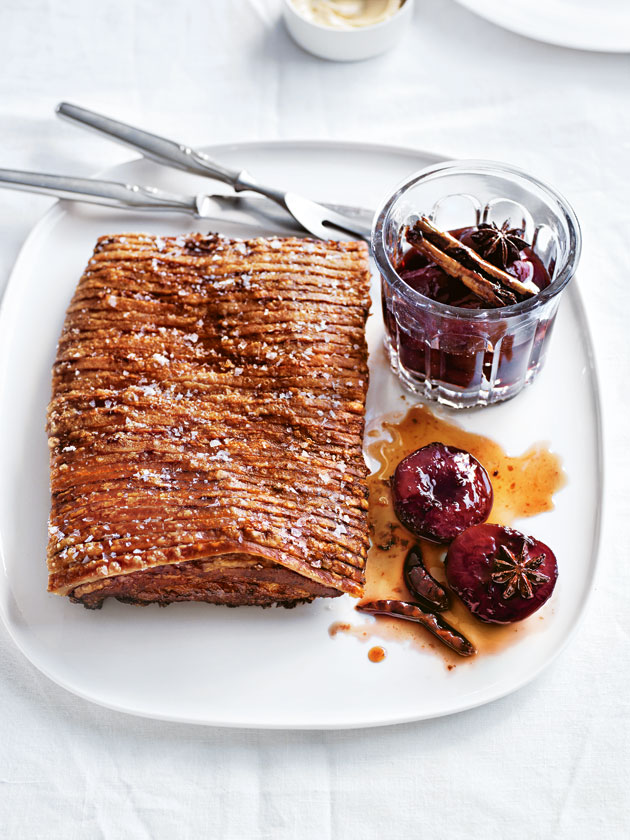 1 tablespoon extra virgin olive oil

2 tablespoons sea salt flakes

1 x 2kg piece boneless pork belly, skin scored at 1cm intervals

spiced plum sauce
½ cup (85g) brown sugar

½ cup (125ml) red wine vinegar

4 whole dried chillies

2 whole star anise

1 cinnamon stick

400g ripe plums, halved and pitted

Preheat oven to 180°C (350°F). Rub the oil and salt into the pork skin. Place the pork, skin-side down, on a baking tray and roast for 1 hour. Increase the oven temperature to 200°C (400°F), turn the pork and roast for a further 1 hour 20 minutes or until the skin is golden and crunchy.
While the pork is roasting, make the spiced plum sauce. Place the sugar, vinegar, chillies, star anise and cinnamon in a medium non-stick frying pan over high heat and bring to a simmer. Add the plums and cook, turning occasionally, for 8–10 minutes or until just soft and the sauce has reduced.
Slice the pork and serve with the plum sauce. Serves 6.

donna hay team
Hi, Fiona. We think roast vegetables and a simple green salad would work well. Enjoy! The DH Team.
Fiona McLachlan
I have 8 people for lunch I would like to serve this as a help yourself ...any suggestions for accompaniments or complementary dishes?
Thanyou
Ralph Stobo-Wilson
Have used this way to cook all my pork recipes and has not missed with the crackle or moisture. Thanks
donna hay team
Hi Mark, so pleased to hear how much you are enjoying it! Make sure that your pork skin is very dry before adding it the the pan. Hope that helps! The dh team
Mark Kennedy
I have tried this recipe for the Pork about 5 times now. the crackling has turned out the best of any recipe i have tried. The skin does stick sometime's to the tray before you turn it over, am I doing something wrong?
kaye ball
A very easy recipe, turns out juicy & pork crackle is perfect every time. Just delicious, a family favourite.
Megan Williams
I've only made the pork belly (so can't comment on the plum component). I've made the pork a few times now and its turned out great each time. This is a great recipe and really impressive for dinner parties.
Amanda Browarczyk
Breaking ALL the rules, skin side down first!! It works and this pork recipe is by far the best I have ever had with the best ever crackling too.