crunchy raw pad thai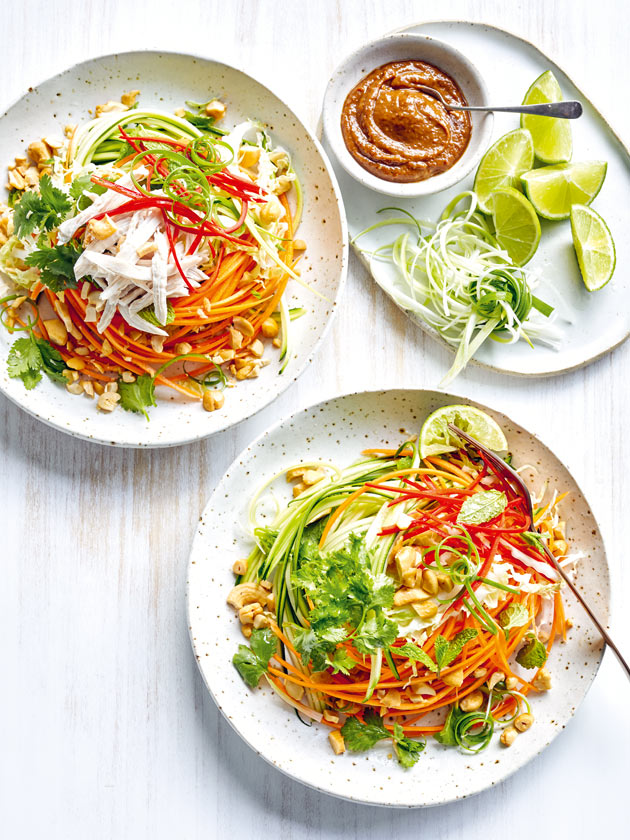 250g (8¾ oz) Chinese cabbage (about one-quarter of a cabbage), finely shredded
3 carrots, peeled and shredded (see Tips + Tricks)
2 zucchinis (courgettes), shredded (see Tips + Tricks)
2 long red chillies, seeds removed and shredded
4 green onions (scallions), shredded
⅔ cup (8g/¼ oz) coriander (cilantro) leaves
⅔ cup (10g/¼ oz) mint leaves
¾ cup (110g/4 oz) roasted salted cashews, roughly chopped
lime wedges, to serve
PAD THAI DRESSING
⅓ cup (80g/2¾ oz) almond or cashew butter
¼ cup (60ml/2 fl oz) lime juice
2 tablespoons soy sauce or coconut aminos
2 tablespoons coconut sugar
1 tablespoon finely grated ginger
Place the cabbage, carrot, zucchini, chilli and half the onion in a large bowl. Add the coriander and mint and toss to combine.
To make the pad Thai dressing, place the almond butter, lime juice, soy sauce, sugar and ginger in a medium bowl and whisk to combine.
Divide the raw pad Thai between serving bowls and sprinkle with the cashews and remaining onion. Top with the dressing and serve with lime wedges. Serves 4
TIPS + TRICKS
+ We've used a julienne peeler to shred the carrot and zucchini, but if you don't have one, you can use a regular peeler to make thicker vegetable ribbons.
+ If you'd like to add something extra to your own personal bowl of raw vegie pad Thai, there are lots of options to choose from. You could throw in some cooked rice noodles, add 100g (3½ oz) crispy-fried firm tofu, shred 120g (4¼ oz) cooked chicken into your bowl or even stir through 120g (4¼ oz) seared salmon – just flake it into large pieces
Photography: Con Poulos
Glynn Andersen
Most delicious recipe made with simple, fresh ingredients.