dill and butter bean fishcakes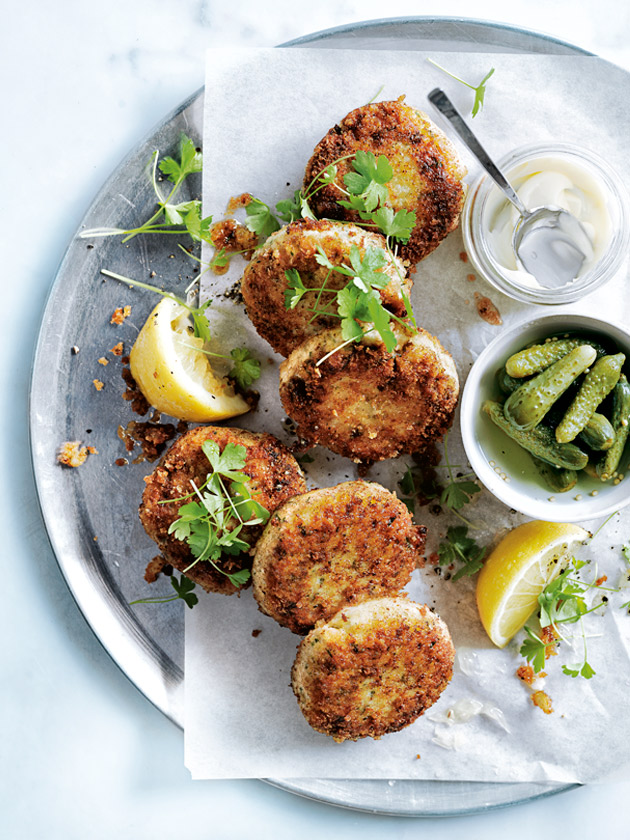 500g firm skinless white fish fillets, roughly chopped

¼ cup (45g) cornichons, plus extra to serve

½ cup dill sprigs

1 tablespoon Dijon mustard

400g can butter (lima) beans, rinsed and drained

sea salt and cracked black pepper

1 cup (75g) panko (Japanese) breadcrumbs

¼ cup (60ml) extra virgin olive oil

lemon wedges and whole-egg mayonnaise, to serve

micro (baby) flat-leaf parsley leaves (optional), to serve

Place the fish, cornichons, dill, mustard, butter beans, salt and pepper in a food processor and pulse until just combined.

Shape into patties, using about ⅓-cup of mixture for each, and press into the breadcrumbs to coat.

Heat 1 tablespoon of the oil in a
large non-stick frying pan over medium heat. Cook the fish cakes, in batches, adding more of the oil as necessary, for 2–3 minutes each side or until golden brown.
Divide among plates and serve with lemon wedges, mayonnaise, extra cornichons, and parsley, if using. Serves 4.

Melanie Colvin
I tried this recipe, while on holiday, so had to improvise a bit. With no food processor, I chopped and squashed as best I could. Substituted chickpeas for beans and torn slices of bread for panko. It all worked really well and we thoroughly enjoyed our meal. Looking forward to doing the "right" way once we get home!