dill and salt-cured salmon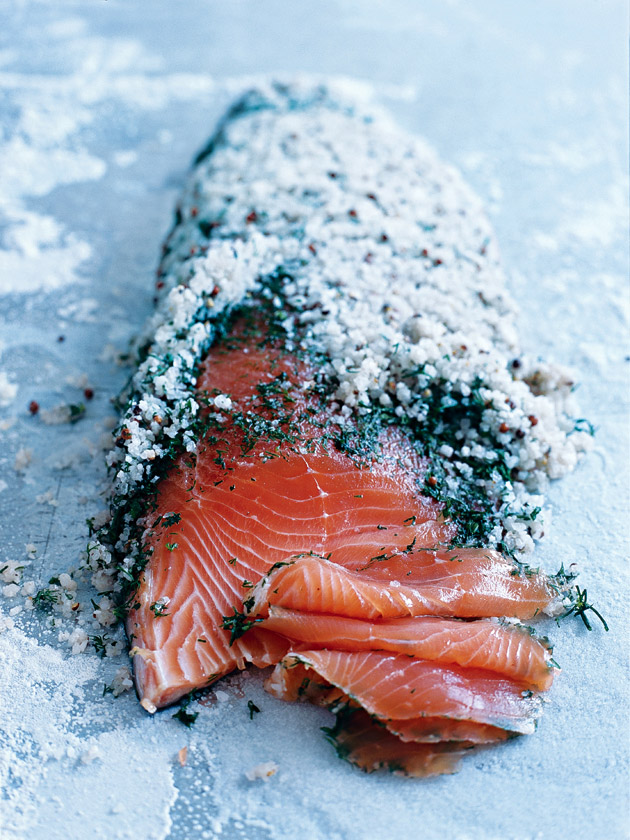 1 ½ cup (450g) rock salt+

2 tablespoons caster (superfine) sugar

1 ½ tablespoon water

1 tablespoon white peppercorns

1.5kg side salmon, trimmed and pin-boned++

1 bunch dill, chopped

brandy dressing
⅓ cup (80ml) brandy

1 teaspoon caster (superfine) sugar

sea salt and cracked black pepper

1 teaspoon store-bought grated horseradish

2 teaspoons white wine vinegar

Process the salt, sugar, water and peppercorns in short bursts in a food processor until just combined. Place the salmon on a tray, rub with the dill, then the salt mixture. Cover with plastic wrap, place a tray on top of the salmon, weigh down with a heavy object and refrigerate for 24 hours.

To make the brandy dressing, place the brandy, sugar, salt and pepper in a saucepan over high heat. Bring to the boil and cook for 2 minutes or until reduced by half. Stir through the horseradish and vinegar and cool slightly. Thinly slice the salmon, spoon over the dressing and serve with chunks of dark rye bread. Serves 12.
+ The type of salt used for curing is important. You should use rock salt rather than a finer salt because its coarseness cures the meat without imparting too much saltiness.
++ Ask your fishmonger to pin-bone the fish for you. Alternatively, run your fingers along the fish and remove any protruding bones with a set of tweezers.
+++ The salmon will keep, tightly covered, in the refrigerator for up to 3 days.
Anna Kuzminsky
Being Swedish I am pretty traditional when it comes to Grav Lax! You do not, ever, weigh down the salmon during the cure, it makes it hard. The gravlax slices are supposed to be melting in your mouth, not chewy!