fennel and herb-crusted salmon
with garlic potatoes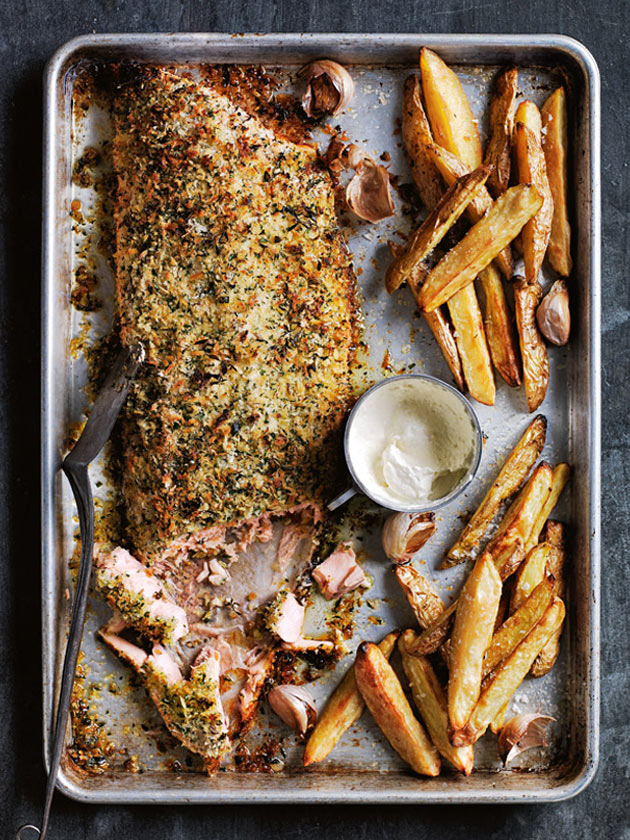 ⅓ cup (80ml) extra virgin olive oil

1kg kipfler (waxy) potatoes, scrubbed and quartered

10 cloves garlic

sea salt and cracked black pepper

1 teaspoon fennel seeds

2 cloves garlic, extra, crushed

½ cup flat-leaf parsley leaves, finely chopped

1 tablespoon thyme leaves, chopped

2 teaspoons finely grated lemon rind

½ cup (35g) panko (Japanese) breadcrumbs

1 x 1kg side of salmon, skin on, trimmed and pin-boned+

2 tablespoons store-bought grated horseradish

lemon and horseradish crème fraîche
1 cup (240g) crème fraîche

2 tablespoons store-bought grated horseradish

1 tablespoon lemon juice

Preheat oven to 220°C (425°F). Place 2 tablespoons of the oil, the potato, whole garlic cloves, salt and pepper in a large deep-sided roasting tray and toss to combine. Cook for 15 minutes, turning halfway, or until golden.

While the potato is cooking, place the fennel seeds, crushed garlic, parsley, thyme, lemon rind, breadcrumbs, salt, pepper and remaining oil in a small bowl. Spread the skinless side of the salmon with the horseradish and press on the breadcrumb mixture to coat. Remove the tray from the oven and push the potato to one side of the tray.

Place the salmon on the same tray, skin-side down, drizzle with the remaining oil and cook for a further 15 minutes or until the potato is golden and salmon is just cooked through. Set aside for 5 minutes to rest.

While the salmon is resting, make the lemon and horseradish crème fraîche. Place the crème fraîche, horseradish and lemon juice in a small bowl, sprinkle with salt and mix to combine. Serve the salmon with the potato and horseradish crème fraîche. Serves 6.

+ Ask your fishmonger to pin-bone the fish for you. Alternatively, run your fingers along the fish and remove any bones with tweezers.
There are no comments for this entry yet.