green peppercorn t-bone steaks
with smoky barbecue relish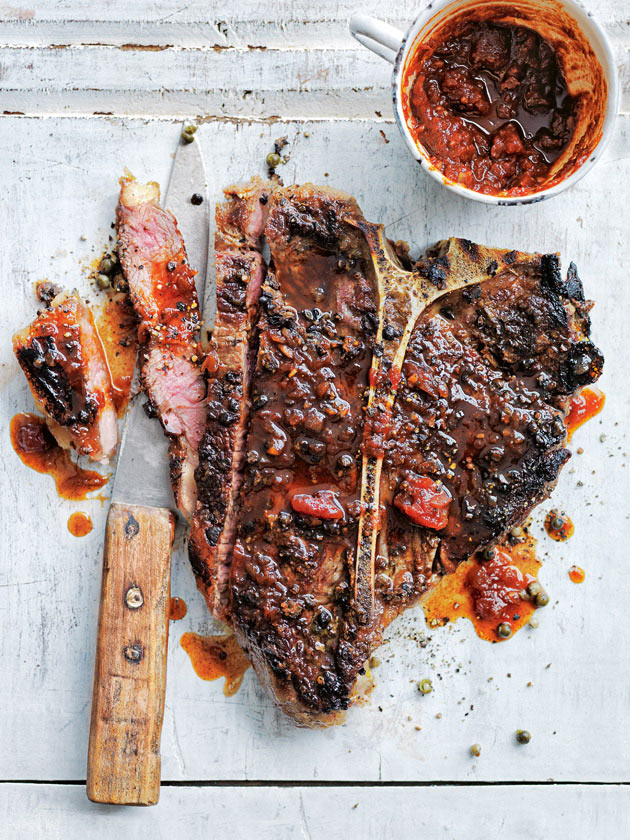 2 tablespoons green peppercorns

2 tablespoons sea salt flakes

2 x 800g T-bone steaks+, at room temperature

1 tablespoon extra virgin olive oil

smoky barbecue relish
1 white onion, chopped

4 cloves garlic, sliced

1 tablespoon extra virgin olive oil

2 bay leaves

2 whole dried chillies

2 teaspoons mustard powder

2 tablespoons smoked paprika

1 teaspoon sea salt flakes

400g can chopped tomatoes

½ cup (90g) brown sugar

⅓ cup (80ml) Worcestershire sauce

¼ cup (90g) honey

1 tablespoon red wine vinegar

To make the smoky barbecue relish, place the onion and garlic in a small food processor and process until finely chopped.

Heat the oil in a medium saucepan over high heat. Add the onion mixture, bay leaves and chillies and cook, stirring, for 4–5 minutes or until the onion is soft. Add the mustard powder, paprika and salt and cook for 30 seconds.

Add the tomatoes, sugar, Worcestershire sauce, honey and vinegar and bring to the boil. Reduce heat to low and cook, stirring occasionally, for 20–25 minutes or until thickened. Discard the bay leaves and chillies and set aside.

Preheat a char-grill pan or barbecue to high heat. Place the peppercorns in a mortar and pound with a pestle until crushed. Add the salt and mix to combine.

Drizzle the steaks with the oil and sprinkle with the peppercorn mixture. Cook the steaks for 5–6 minutes each side for medium-rare or until cooked to your liking. Set aside to rest for 5 minutes. Slice the steaks, top with the peppercorn mixture and serve with the barbecue relish. Serves 4.

+ Ask your butcher to cut and trim large T-bone steaks for you.
Photography: Chris Court
donna hay team
Hi Keren, the relish will keep refrigerated for up to 1 month. The DH team
Keren Taylor
Hi Donna, if I double the recipe for the relish, how long would it keep in the fridge for?