grilled rosemary and chilli pork skewers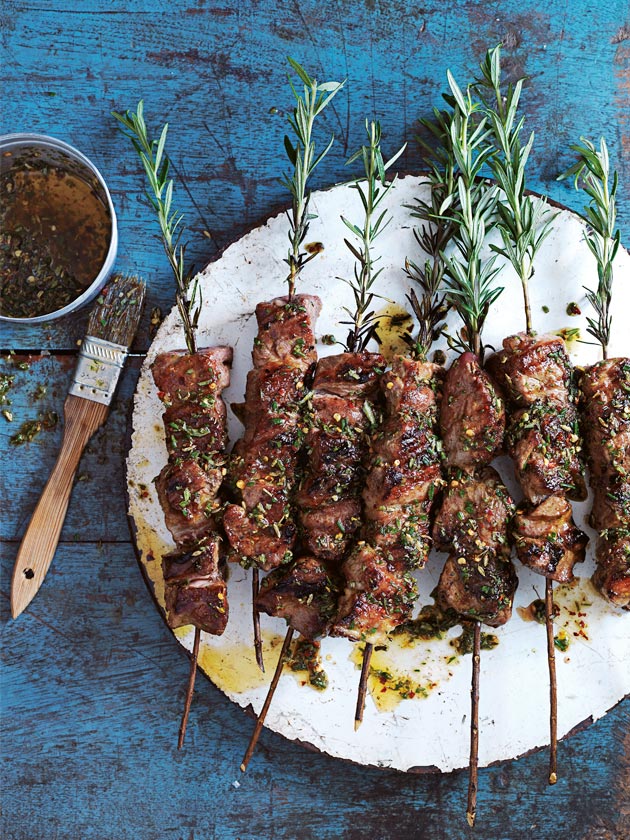 8 long thick sprigs rosemary

2 cloves garlic, crushed

1 teaspoon finely grated lemon rind

½ teaspoon fennel seeds

1 teaspoon dried chilli flakes

¼ cup (60ml) extra virgin olive oil

sea salt and cracked black pepper

1.2kg boneless pork neck, trimmed and cut into 3cm pieces

Strip the rosemary leaves from the sprigs, leaving 4cm of leaves attached at the top, and reserve the leaves. Cut the woody end of each sprig on an angle to create a point. Set aside.

Place the reserved rosemary leaves in a small food processor. Add the garlic, lemon rind, fennel, chilli, oil, salt and pepper and process until finely chopped.

Place the pork in a large bowl, add half the rosemary mixture and toss to coat. Set aside to marinate for 10 minutes.

Thread the pork onto the rosemary skewers. Preheat a char-grill pan over medium heat. Cook the skewers for 6 minutes each side or until charred and cooked through. Serve with the remaining marinade. Serves 4.
Lisa Donnellan
Rosemary skewers are so tasty with a depth of flavour. Yum!