hoisin-glazed pork meatballs with rice noodles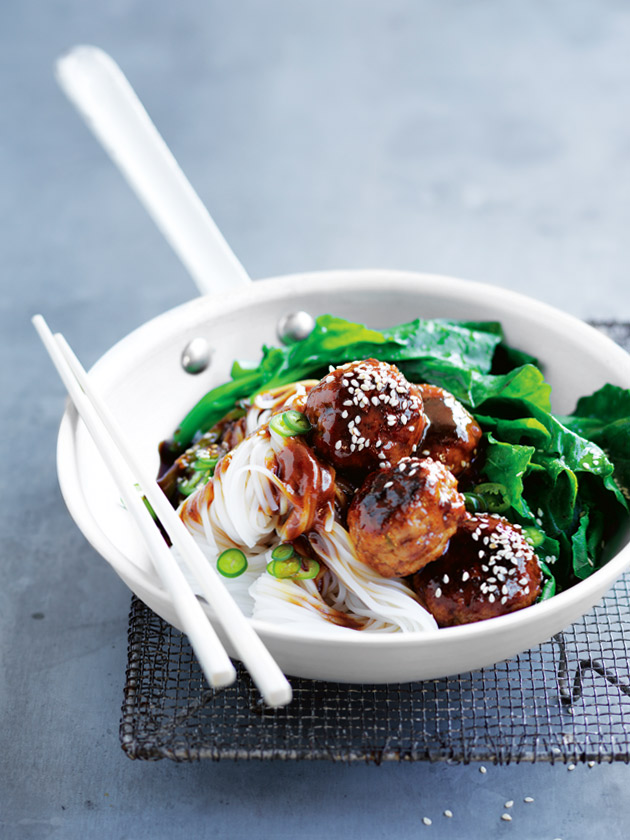 1½ cups (105g) fresh breadcrumbs

¼ cup (60ml) milk

600g pork mince

3 green onions, finely chopped

2 tablespoons finely grated ginger

½ teaspoon sea salt flakes

⅔ cup (160ml) hoisin sauce

1 tablespoon sesame oil

½ cup (125ml) water

¼ cup (60ml) rice wine vinegar

cooked rice noodles, cooked gai lan (Chinese broccoli), sesame seeds and sliced green chilli to serve
Place the breadcrumbs and milk in a large bowl and mix to combine. Set aside for 5 minutes to soak.
Add the mince, onion, ginger, salt and 2 tablespoons of the hoisin and mix well to combine. Roll tablespoonfuls of the mixture into balls.
Heat the oil in a large non-stick frying pan over medium heat. Cook the meatballs for 6–8 minutes or until browned.
Add the water, vinegar and remaining hoisin and bring to a simmer. Cook for a further 8–10 minutes or until the meatballs are cooked and the sauce has reduced slightly. Serve with noodles, gai lan, sesame seeds and chilli. Serves 4
TIPS:
+ The meatballs can be made in advance and frozen raw. Thaw completely before cooking.
+ You can swap the mince in these recipes for any of your favourite sausages. Just remove the meat from the casings before using.
Photography: Ben Dearnley
There are no comments for this entry yet.
RELATED VIDEO