italian-style tomato,
chicken and bread soup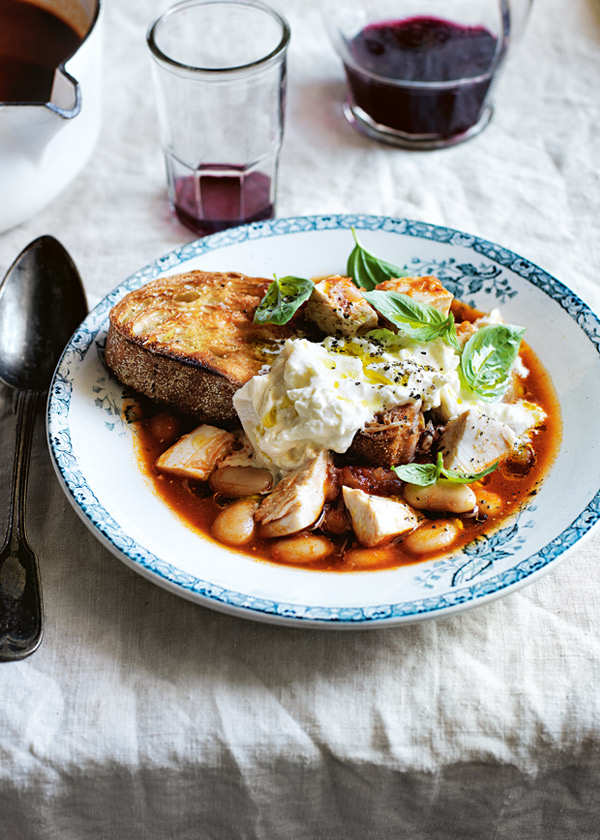 1 x 1.6kg chicken, rinsed and drained

1 carrot, peeled and chopped

1 brown onion, skin on, quartered

4 stalks basil

6 sprigs thyme

3 litres water

1 tablespoon extra virgin olive oil, plus extra, to serve

1 brown onion, extra, peeled and finely chopped

4 cloves garlic, peeled and thinly sliced

¼ cup (70g) tomato paste

2 x 400g cans chopped tomatoes

2 tablespoons caster (superfine) sugar

1 tablespoon sherry vinegar

1 teaspoon dried chilli flakes

2 teaspoons smoked paprika

1 x 400g can butter (lima) beans, rinsed and drained

1 x 200g burrata (see tip), torn

4 long-stemmed marinated artichokes, halved

6 slices sourdough, toasted

basil leaves, to serve

Place the chicken, carrot, onion, basil, thyme and water 
in a large saucepan and bring to the boil over high heat. 
Reduce the heat to medium and simmer for 1½ hours. 
Strain, reserving the stock and the whole chicken. Chop 
the chicken, discarding the skin and bones. Set aside.
Heat the oil in a clean saucepan over medium heat, 
add the onion and garlic and cook, stirring, for 4–6 minutes. 
Add the tomato paste and cook for a further 2 minutes. 
Add the stock, chopped tomatoes, sugar, vinegar, chilli 
and smoked paprika and bring to a simmer. Cook for 
20 minutes. Add the butter beans and chicken and cook 
for 5 minutes or until warmed through. Divide the bread 
between bowls. Spoon over the soup and top with the 
burrata, artichokes and basil to serve. Serves 4–6.


Tip: Burrata is a fresh mozzarella made with cream. Find it at 
specialty food stores, cheese shops and some greengrocers.
There are no comments for this entry yet.