lamb kofta with pomegranate
and tomato salad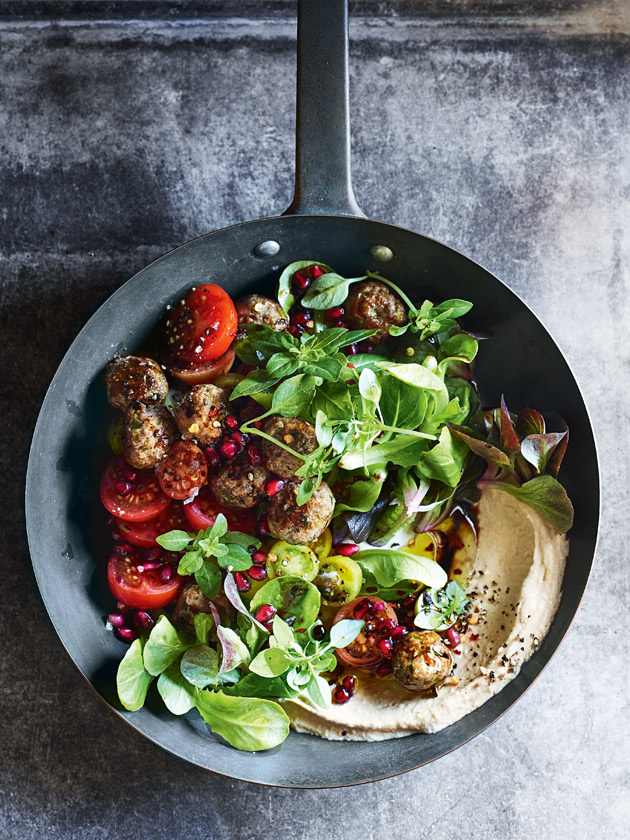 500g heirloom cherry tomatoes, halved

1 teaspoon finely grated lemon rind

2 tablespoons pomegranate molasses

2 pomegranates, seeds removed

sea salt and cracked black pepper

1 tablespoon extra virgin olive oil, plus extra to serve

hummus, to serve

1 cup Greek basil leaves, to serve
lamb koftas
500g lamb mince

½ cup (60g) pitted green olives, finely chopped

½ teaspoon ras el hanout

2 green onions (scallions), finely chopped

2 tablespoons finely chopped oregano leaves

sea salt and cracked black pepper

To make the lamb koftas, place the lamb, olive, ras el hanout, onion, oregano, salt and pepper in a large bowl and mix well to combine. Roll teaspoons of the mixture into balls. Set aside.

Place the tomato, lemon rind, molasses, pomegranate seeds, salt and pepper in a large bowl and toss to combine.

Heat the oil in a large non-stick frying pan over high heat. Add the koftas, in batches, and cook, turning occasionally, for 6–8 minutes or until golden and cooked through.

Spoon the hummus onto plates and top with the tomato salad and koftas. Drizzle with the extra oil, top with basil and sprinkle with pepper to serve. Serves 4–6.

Ana Kiener
I have made this several times. It is easy and absolutely delicious. Everyone always loves this dish.
donna hay team
Hello Karen, Ras El Hanout is a North African spice mix and is available in supermarkets or herb and spice specialty stores. Some supermarkets stock pomegranate molasses, as do delicatessens and smaller fruit and vegetable chains. The DH team.
Karen Randall
This recipe looks delicious! What is RAS EL HANOUT and where would I get it from? Also where do you get pomegranate molasses?
Tags:
cherry tomatoes
,
dinner
,
easy weeknights
,
greek basil leaves
,
hummus
,
koftas
,
lamb
,
mince
,
oregano
,
pomegranate
,
salad
,