miso brown rice and broccoli balls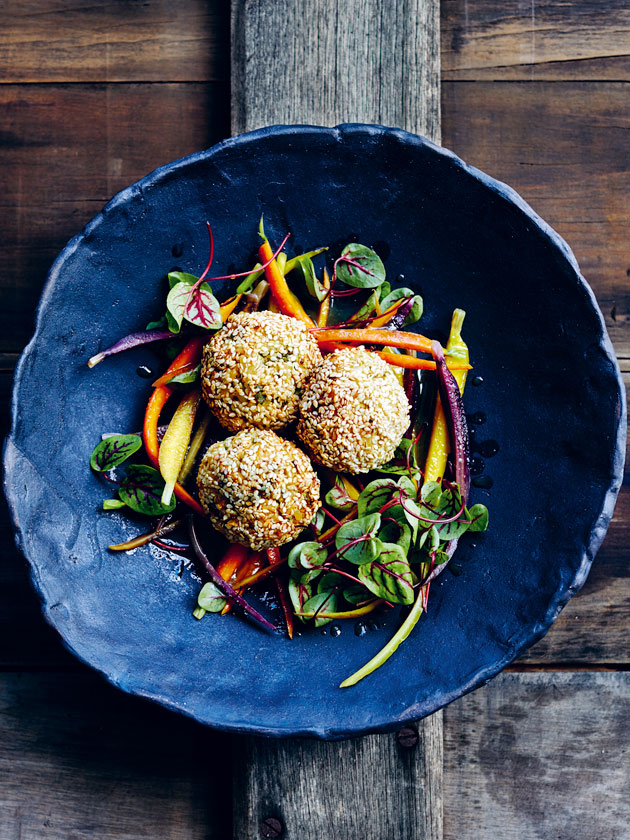 1 cup (240g/8½ oz) fresh ricotta

2 tablespoons white miso paste (shiro)

1 tablespoon finely grated ginger

2 cups (400g/14 oz) cooked brown rice

2 cups (200g/7 oz) finely chopped broccoli

2 green onions (scallions), thinly sliced

sea salt flakes

¾ cup (100g/3½ oz) sesame seeds

extra virgin olive oil, for brushing
miso carrot salad
1 tablespoon white miso paste (shiro)

2 tablespoons mirin (Japanese rice wine)

1 tablespoon honey

300g (10½ oz) heirloom Dutch carrots, scrubbed, trimmed and quartered lengthways

2 cups (50g/1¾ oz) red-veined sorrel or baby spinach leaves
Preheat oven to 200°C (400°F). Line a large baking tray with non-stick baking paper.

Place the ricotta, miso paste and ginger in a large bowl and mix to combine. Add the rice, broccoli, onion

and salt and mix to combine.

Place the sesame seeds on a small plate. Shape ¼-cup portions of the broccoli mixture into balls and roll in the sesame to coat. Place on the tray and brush generously with oil. Bake for 25 minutes or until golden.

While the broccoli balls are baking, make the miso carrot salad. Place the miso paste, mirin and honey in a large bowl and mix to combine. Add the carrot and red-veined sorrel and toss to combine.

Divide the salad between serving bowls and top with the broccoli balls to serve. Serves 4
TIPS + TRICKS
+ It's really easy to bake trays and trays of these rice balls and freeze them for later.
+You can swap the rice for quinoa or other cooked grains.
Photography: Con Poulos

donna hay team
Hi Eva,
Yes, the carrots are raw in the salad. They add a nice crunch. Happy cooking! dh team
Eva Marien
Hi !
Looks yummie and I want to give it a try ...
Are the carrots in this salad raw ?
Not cooked ?
Thank you !