miso butter ramen
with fried chicken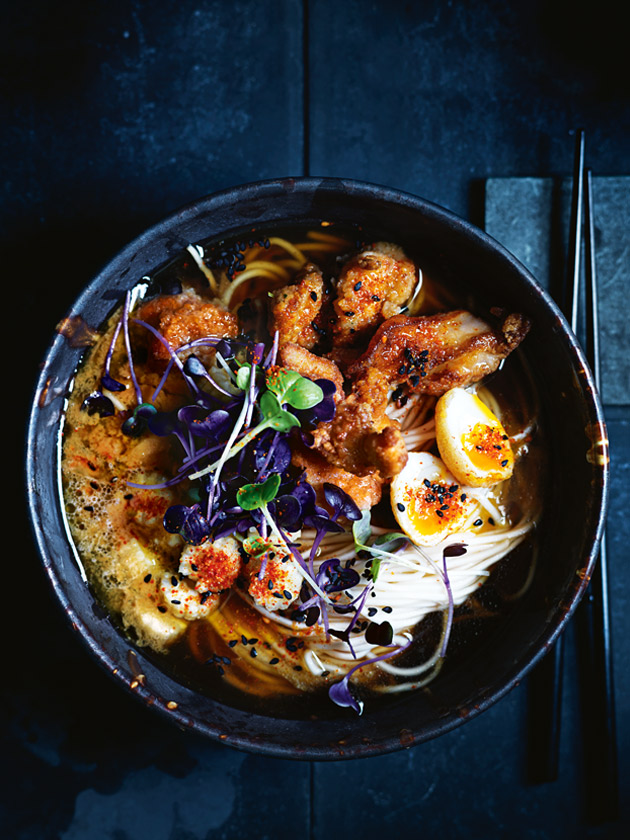 600g chicken thigh fillets, cut into 3cm pieces

¼ cup (60ml) sake

1 tablespoon soy sauce

1 tablespoon rice wine vinegar

2 cloves garlic, crushed

vegetable oil, for deep-frying

½ cup (75g) self raising (self-rising) flour

½ cup (75g) cornflour (cornstarch)

4 quail eggs+

280g dried udon noodles

8 cobs baby corn, sliced

1 x quantity hot ramen stock (see step 5)

green and purple radish sprouts, to serve

shichimi togarashi++ and black sesame seeds, to serve

miso butter
80g unsalted butter, softened

1½ tablespoons white miso paste

1 teaspoon finely grated ginger

Place the chicken, sake, soy sauce, vinegar and garlic in a large bowl and toss to combine. Refrigerate for 20 minutes. To make the miso butter, place the butter, miso and ginger in a small bowl. Mix to combine and set aside.
Fill a large saucepan two-thirds full with oil and place over medium heat until the temperature reaches 180°C (350°F) on a deep-frying thermometer.
Place both flours in a large zip-lock bag. Remove the chicken from the marinade and add to the bag. Seal and shake to coat. Remove the chicken from the bag and cook, in batches, for 2–3 minutes or until golden and cooked through. Drain on paper towel and keep warm.
Cook the eggs in a medium saucepan of boiling water for 2 minutes. Drain, refresh under cold water and peel. Pat the eggs dry+++, carefully lower into the oil and cook for 1 minute or until crisp. Drain on paper towel and set aside.
Cook the noodles in a large saucepan of boiling water for 3 minutes. Add the corn and cook for a further 2 minutes. Drain and refresh the noodles under cold water. Divide the noodles between serving bowls. Ladle over the hot stock and top with the chicken and corn.
Halve the eggs and add to the ramen bowls. Top with spoonfuls of the miso butter and sprinkle with the radish sprouts, shichimi togarashi and sesame seeds to serve. Serves 4.

+ Quail eggs are available from some supermarkets, gourmet food stores and Asian grocers. Substitute with soft-boiled chicken eggs.
++ Shichimi togarashi is a Japanese spice mixture and is available from Asian supermarkets and grocers.
+++ Ensure your quail eggs are very dry to avoid them spitting when lowering them into the hot oil.
Photography: Ben Dearnley
There are no comments for this entry yet.